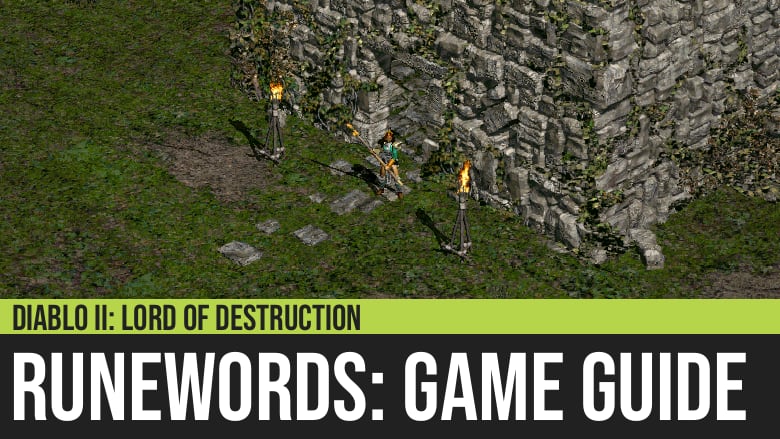 Diablo II: Runewords Guide
Runewords are what separate Diablo II from all existing loot-based action RPG and elevate it to be the best hack and slash item collection game of all time. Runewords came late and got introduced only in the expansion Lord of Destruction, but it was enough to make it a game that can last for hundreds of hours, giving it an engaging loop in our search for the best items in the game.
Runewords are crafted items that follow known recipes. At a glance, they look like items in games where crafting is a core mechanic, like in Monster Hunter. We must remember that the core item mechanic of Diablo II is random item drop, not crafting. Weapons and armor drop from monsters, we don't craft them. But with Runewords, it complemented this random drop mechanic instead of replacing it, creating a powerful synergy that gave it much depth, without necessarily making it complex.
With Runewords, Diablo II became a more engaging crafting game, more than Monster Hunter, while not even having it as its core loop. In other words, Diablo II gained the best of both worlds, random and deterministic items.
Let's illustrate this with an example.
If you want to create a good weapon in Monster Hunter, say the Scorching Blazer, you need to do the following:
Know the recipe for the Scorching Blazer. You can check this online and learn that you need the following ingredients:


3x Monster Bone
3x Glavenus Shell
3x Glavenus Pyroshell
1x Glavenus Tail

Where can you get these ingredients? Just hunt the Glavenus multiple times until you get all the parts you need.
Once you have all the recipes, you can already create that wonderful weapon
The weapon you just produced is constant, you can craft hundreds of these, and they will all be the same - same stats, same everything. There is no depth at all in the ingredients nor on the results.
Now, in Diablo II, you decided to create a weapon called Eternity. To craft this, you need to do the following:
Know the recipe for the runeword Eternity. You can check this online and learn that you need the following ingredients:


Any weapon with five sockets
1x Amn rune
1x Ber rune
1x Ist rune
1x Sol rune
1x Sur rune

Where can you get these ingredients? The answer is - anywhere in the game. They could come from boss monsters, unique monsters, any monster, even from a lowly Fallen. They can come from chests, weapon racks, and even pots.


What gives the game much depth is not even the source of the ingredients, but the ingredients themselves.

What kind of weapon should you use? Should you use a polearm, an axe, a sword?
If you are going to use a polearm, should you use a voulge, a thresher, a cryptic axe?
If you are going to use a voulge, should you use an ethereal, a superior, a normal?
And after doing all that, even if you use the exact recipes, you will produce varying results.
If you think about it, the depth of Diablo II's runewords is multiplicative. It produces a lot of variety while keeping the mechanics extremely simple. You just need a weapon with five sockets and five runes. That's all. But what they are and where you get them, that's where Diablo II's runeword crafting beats Monster Hunter by a large gap.
Weapon and Armor Terminology
We shared above that runewords follow a specific recipe. If any ingredient in the recipe is not followed, the transmutation will not work, and you will waste your ingredients. Hence it is very important that you become familiar with the terms used in the runeword recipes. And most important of them are those used for the base weapon and armor.
Remember to always use the right items based on this terminology:
Body Armor - Any armor that is worn on the chest
Helms - Any armor that is worn on the head:


Helms
Barbarian Helms
Druid Pelts
Circlets

Shield - Any armor that is used for blocking:


Shields
Necromancer Shrunken Heads
Paladin Shields

Clubs - Only includes:


Club
Spiked Club
Exceptional and Elite versions of the above

Hammers - Only include:


War Hammer
Maul
Great Maul
Exceptional and Elite versions of the above

Maces - Only include:


Mace
Morning Star
Flail
Exceptional and Elite versions of the above
This does not include any other type of maces


It does not include the Hammers listed above

Melee Weapons


Include only weapons that are meant for close combat


Include Wands, Staves and all the other hand weapons

This does not include ranged weapons and orbs


Bow
Crossbow
Sorceress Orbs

Missile Weapons - Only include

Weapons - all Melee Weapons, Missile Weapons, and Orbs
Scepters - Only include:


Scepter
Grand Scepter
War Scepter
Exceptional and Elite versions of the above

Staves - Only include:


Staves
This does not include Wands
Creating a Runeword
To successfully create a runeword, you must follow these steps:
Determine the recipe for the runeword you want to create.
Use the correct base item using the terminology shared above.


The item must be a socketed non-magical item
These items are not allowed


The number of sockets in the item must be the same as required by the recipe
The runes must match exactly those in the recipe
The runes must be inserted into the item in the correct order based on the recipe


You are trying to spell the runeword when inserting it. Hence you must follow the sequence
Example: The Enigma runeword is JahIthBer. You must first place Jah, then Ith, and then finally Ber.

Most importantly, determine if you are creating a runeword within or outside the Battle.net Ladder. Many runewords are only craftable there.
Making All Runewords Available
The best runewords in the game are available only on the Battle.net Ladder. To make them available in your offline game, a plugin called Plugy is a good option. It makes all the official runewords craftable.
Battle.net Ladder Only Runewords
These are the runewords that are available only in the Battle.net Ladder. Do not try to craft them elsewhere, unless you are using Plugy.
| | | |
| --- | --- | --- |
| Brand | Grief | Obedience |
| Death | Harmony | Phoenix |
| Destruction | Ice | Pride |
| Dragon | Infinity | Rift |
| Dream | Insight | Spirit |
| Edge | Last Wish | Voice of Reason |
| Faith | Lawbringer | Wrath |
| Fortitude | Oath | |
Additional Runewords Mechanics
After creating a runeword, new bonuses are added to the item. All the bonuses from the runes will also be present.
Runewords will not work on the Wirt's Leg, though it is a socketed weapon.
Make sure you have the right patch in your game. Some runewords are valid only in the latest patches.
When using superior socketed items, the actual stats might be higher than what is being shown. Just remember that superior items are the best base for runewords.
Runewords can also be personalized in Anya's quest reward.
Be careful when using the runes Io and Lo to avoid mistakes.
List of Runewords
Body Armor Runewords
Runeword
Properties

Armor {3}
Level: 65

+2 To All Skills
+45% Faster Run/Walk
+1 To Teleport
+750-775 Defense (varies)
+(0.75 Per Character Level) +0-74 To Strength (Based On Character Level)
Increase Maximum Life 5%
Damage Reduced By 8%
+14 Life After Each Kill
15% Damage Taken Goes To Mana
+(1 Per Character Level) +1-99% Better Chance of Getting Magic Items (Based On Character Level)

Jah (31) + Ith (6) + Ber (30)

Armor {4}
Level: 63

+2 To All Skills
+200% Damage To Demons
+100% Damage To Undead
8% Life Stolen Per Hit
+70% Enhanced Defense
+20 To Strength
Replenish Life +7
All Resistances +65
Damage Reduced By 8%
25% Better Chance of Getting Magic Items

Dol (14) + Um (22) + Ber (30) + Ist (24)

Armor {4}
Level: 61

Level 15-21 Thorns Aura When Equipped (varies)
+50% Faster Hit Recovery
+25-50% To Poison Skill Damage (varies)
+300 Defense
Increase Maximum Mana 5%
Regenerate Mana 15%
+5% To Maximum Cold Resist
Fire Resist +30%
Poison Resist +100%
+13 Life After Each Kill
Level 13 Spirit of Barbs (33 Charges)

Ral (8) + Ohm (27) + Sur (29) + Eth (5)

Armor {3}
Level: 61

20% Chance to Cast Level 18 Venom When Struck
12% Chance To Cast Level 15 Hydra On Striking
Level 14 Holy Fire Aura When Equipped
+360 Defense
+230 Defense Vs. Missile
+3-5 To All Attributes (varies)
+0.375-37.125 To Strength (Based on Character Level)
Increase Maximum Mana 5%
+5% To Maximum Lightning Resist
Damage Reduced by 7

Sur (29) + Lo (28) + Sol (12)

Armor {4}
Level: 59

20% Chance To Cast Level 15 Chilling Armor when Struck
+25% Faster Cast Rate
+300% Enhanced Damage
+200% Enhanced Defense
+15 Defense
+X To Life (Based on Character Level)*
Replenish Life +7
+5% To Maximum Lightning Resist
All Resistances +25-30 (varies)
Damage Reduced By 7
12% Damage Taken Goes To Mana
+1 To Light Radius

El (1) + Sol (12) + Dol (14) + Lo (28)

Armor {3}
Level: 55

100% Chance To Cast Level 5 Holy Bolt On Striking
+2 To Paladin Skill Levels
+50% Damage to Undead
+100-150 To Life (varies)
15% Slower Stamina Drain
+5% To Maximum Poison Resist
Fire Resist +30%

Ral (8) + Gul (25) + Eld (2)

Armor {2}
Level: 49

+25% Faster Hit Recovery
+140-170% Enhanced Defense (varies)
All Resistances +25-35 (varies)
Damage Reduced by 3
Magic Damage Reduced by 17
+2 To Mana After Each Kill
+1 To Light Radius
Repairs Durability 1 In 4 Seconds

Mal (23) + Tir (3)

Armor {3}
Level: 49

5% Chance To Cast Level 15 Cyclone Armor When Struck
5% Chance To Cast Level 15 Twister On Striking
+2 To Druid Skills
+100-150 To Mana (varies)
Lightning Resist +30%
Magic Damage Reduced By 7
15% Damage Taken Goes to Mana

Ort (9) + Mal (23) + Ith (6)

Armor {3}
Level: 47

15% Chance To Cast level 10 Bone Armor When Struck
15% Chance To Cast level 10 Bone Spear On Striking
+2 To Necromancer Skill Levels
+100-150 To Mana (varies)
All Resistances +30
Damage Reduced By 7

Sol (12) + Um (22) + Um (22)

Armor {3}
Level: 47

+40% Faster Hit Recovery
+10-20% Enhanced Damage (varies)
Adds 37-133 Cold Damage 2 sec. Duration (Normal)
15% Chance of Crushing Blow
33% Chance of Open Wounds
+150-200% Enhanced Defense (varies)
-20% Slower Stamina Drain
Cold Resist +45%
Lightning Resist +15%
Fire Resist +15%
Poison Resist +15%

Shael (13) + Um (22) + Thul (10)

Armor {3}
Level: 47

15% Chance To Cast Level 3 Dim Vision When Struck
+10% Faster Hit Recovery
+200-260% Enhanced Defense (varies)
+10 To Strength
All Resistances +45
Half Freeze Duration
5% Damage Taken Goes To Mana
-3 To Light Radius

Fal (19)+ Um (22) + Pul (21)

Armor {4}
Level: 47

+60% Faster Hit Recovery
+250-290% Enhanced Defense (varies)
+300 Defense Vs. Missile
+16 To Strength
+16 To Vitality
+10 To Energy
All Resistances +15
Level 16 Molten Boulder (80 Charges)
Level 16 Clay Golem (16 Charges)

Shael (13) + Um (22) + Pul (21) + Lum (17)

Armor {3}
Level: 45

5% Chance To Cast Level 15 Blaze When Struck
5% Chance To Cast level 15 Fire Ball On Striking
+2 To Sorceress Skill Levels
+1 To Warmth
+30% Enhanced Defense
Fire Resist +30%
Damage Reduced By 7

Pul (21) + Ral (8) + Sol (12)

Armor {3}
Level: 43

5% Chance To Cast Level 15 Fade When Struck
25% Chance To Cast level 15 Venom On Striking
+2 To Assassin Skills
+45% Increased Attack Speed
+20% Faster Hit Recovery
Cold Resist +30%
50% Extra Gold From Monsters

Shael (13) + Thul (10) + Lem (20)

Armor {3}
Level: 43

300% Extra Gold From Monsters
100% Better Chance Of Getting Magic Items
+2 To Mana After Each Kill
+10 To Dexterity

Lem (20) + Ko (18) + Tir (3)

Armor {3}
Level: 41

+20% Enhanced Damage
Requirements -15%
+25 To Strength
+10 To Energy
+20 To Vitality
+15 To Dexterity
+50 To Life
All Resistances +30

Hel (15) + Lum (17) + Fal (19)

Armor {2}
Level: 37

+75% Enhanced Defense
+280 Defense Vs. Missile
All Resistances +50
20% Faster Hit Recovery
Level 6 Weaken (18 Charges)
+10 To Energy
-1 To Light Radius

Nef (4) + Lum (17)

Armor {3}
Level: 29

4% Chance To Cast Level 5 Slow Missiles When Struck
2% Chance To Cast level 15 Valkyrie On Striking
+2 To Amazon Skill Levels
+20% Faster Hit Recovery
+2 To Critical Strike
Cold Resist +30%
Attacker Takes Damage of 14

Shael (13) + Thul (10) + Amn (11)

Armor {3}
Level: 25

3% Chance To Cast Level 1 Howl When Struck
10% Chance To Cast Level 1 Taunt On Striking
+2 To Barbarian Skill Levels
+30 Defense Vs. Missile
Replenish Life +10
Attacker Takes Damage of 14
Requirements -15%

Hel (15) + Amn (11) + Nef (4)

Armor {2}
Level: 17

Magic Damage Reduced By 3
+6 To Dexterity
+15 To Maximum Stamina
Poison Resist +30%
Regenerate Mana 15%
25% Faster Run/Walk
25% Faster Cast Rate
25% Faster Hit Recovery

Tal (7) + Eth (5)
Shield Runewords
Runeword
Properties

Shields {3}
Level: 65

10% Chance To Cast Level 15 Confuse When Struck
Level 15 Holy Shock Aura When Equipped
+20-30% Faster Hit Recovery (varies)
+30% Enhanced Defense
+150-220 Defense (varies)
+10 To Vitality
Increase Maximum Life 5% (Helms Only)
+50 To Life (Shields Only)
+0.625-61.875 To Mana (Based On Character Level)
All Resistances +5-20 (varies)
12-25% Better Chance of Getting Magic Items (varies)

Io (16) + Jah (31) + Pul (21)

Shields {4}
Level: 65

100% Chance To Cast level 40 Blaze When You Level-up
40% Chance To Cast Level 22 Firestorm On Striking
Level 10-15 Redemption Aura When Equipped (varies)
+350-400 Defense Vs. Missile (varies)
+350-400% Enhanced Damage (varies)
-28% To Enemy Fire Resistance
+50 To Life
+5% To Maximum Lightning Resist
+10% To Maximum Fire Resist
+15-21 Fire Absorb (varies)

Vex (26) + Vex (26) + Lo (28) + Jah (31)

Shields {3}
Level: 61

20% Chance to Cast Level 18 Venom When Struck
12% Chance To Cast Level 15 Hydra On Striking
Level 14 Holy Fire Aura When Equipped
+360 Defense
+230 Defense Vs. Missile
+3-5 To All Attributes (varies)
+0.375-37.125 To Strength (Based on Character Level)
Increase Maximum Mana 5% (Armor Only)
+50 To Mana (Shields Only)
+5% To Maximum Lightning Resist
Damage Reduced by 7

Sur (29) + Lo (28) + Sol (12)

Paladin Shields {4}
Level: 57

15% Chance To Cast Level 5 Life Tap On Striking
Level 13-16 Defiance Aura When Equipped (varies)
+2 To Offensive Auras (Paladin Only)
+30% Faster Block Rate
Freezes Target
+220-260% Enhanced Defense (varies)
Replenish Life +7
+5% To Maximum Cold Resist
+5% To Maximum Fire Resist
25% Better Chance Of Getting Magic Items
Repairs 1 Durability in 4 Seconds

Vex (26) + Ohm (27) + Ist (24) + Dol (14)

Shields {3}
Level: 49

+20% Faster Hit Recovery
+20% Faster Block Rate
20% Increased Chance of Blocking
+130-160% Enhanced Defense (varies)
+250 Defense vs. Missile
+20 To Dexterity
All Resistances +50-70 (varies)
Magic Damage Reduced By 7
Level 12 Slow Missiles (60 Charges)

Ko (18) + Ko (18) + Mal (23)

Shields {2}
Level: 37

+1 To All Skills
+10% Faster Cast Rate
+20% Faster Block Rate
+60-100% Enhanced Defense (varies)
+10 To Energy
Regenerate Mana 15%
50% Extra Gold From Monsters
20% Better Chance of Getting Magic Items
+3 To Light Radius

Eth (5) + Lum (17)

Shields {2}
Level: 29

20% Increased Chance of Blocking
40% Faster Block Rate
All Resistances +25
Regenerate Mana 15%
Cannot Be Frozen
50% Extra Gold From Monsters
25% Better Chance Of Getting Magic Items

Shael (13) + Eth (5)

Shields {4}
Level: 25

+2 To All Skills
+25-35% Faster Cast Rate (varies)
+55% Faster Hit Recovery
+250 Defense Vs. Missile
+22 To Vitality
+89-112 To Mana (varies)
Cold Resist +35%
Lightning Resist +35%
Poison Resist +35%
+3-8 Magic Absorb (varies)
Attacker Takes Damage of 14

Tal (7) + Thul (10) + Ort (9) + Amn (11)

Shields {3}
Level: 21

+50% Enhanced Defense
Cold Resist +43%
Fire Resist +48%
Lightning Resist +48%
Poison Resist +48%
10% Damage Goes To Mana

Ral (8) + Ort (9) + Tal (7)
Headgear Runewords
Runeword
Properties

Headgear {3}
Level: 65

10% Chance To Cast Level 15 Confuse When Struck
Level 15 Holy Shock Aura When Equipped
+20-30% Faster Hit Recovery (varies)
+30% Enhanced Defense
+150-220 Defense (varies)
+10 To Vitality
Increase Maximum Life 5%
+0.625-61.875 To Mana (Based On Character Level)
All Resistances +5-20 (varies)
12-25% Better Chance of Getting Magic Items (varies)

Io (16) + Jah (31) + Pul (21)

Headgear {3}
Level: 51

1% Chance To Cast Level 50 Delirium* (morph) When Struck
6% Chance To Cast Level 14 Mind Blast When Struck
14% Chance To Cast Level 13 Terror When Struck
11% Chance To Cast Level 18 Confuse On Striking
+2 To All Skills
+261 Defense
+10 To Vitality
50% Extra Gold From Monsters
25% Better Chance of Getting Magic Items
Level 17 Attract (60 Charges)

Lem (20) + Ist (24) + Io (16)

Headgear {2}
Level: 27

+1 To All Skill Levels
+10 To Energy
+2 To Mana After Each Kill
Lightning Resist +30%
Damage Reduced By 7
+2 To Light Radius

Ort (9) + Sol (12)

Headgear {3}
Level: 27

+75% Enhanced Defense
+30 Defense Vs. Missile
+10 To Energy
+10 To Vitality
15% Damage Goes To Mana
Magic Damage Reduced By 3
+33 To Mana
Damage Reduced By 7
+5 To Light Radius

Nef (4) + Sol (12) + Ith (6)

Headgear {3}
Level: 27

+50% Enhanced Defense
+10 Defense
+30 Defense vs. Missile
Level 13 Cloak of Shadows (9 Charges)
+2 To Mana After Each Kill
+5 To Strength
-33% Extra Gold From Monsters
-3 To Light Radius

Nef (4) + Sol (12) + Ith (6)
All Weapon Runewords
Runeword
Properties

Weapons {6}
Level: 69

50% Chance To Cast Level 20 Poison Nova When You Kill An Enemy
Indestructible
+60% Increased Attack Speed
+350-400% Enhanced Damage (varies)
+200% Damage To Undead
-25% Target Defense
+50 To Attack Rating
+50 To Attack Rating Against Undead
7% Mana Stolen Per Hit
12-15% Life Stolen Per Hit (varies)
Prevent Monster Heal
+30 To All Attributes
+1 To Light Radius
Requirements -20%

Vex (26) + Hel (15) + El (1) + Eld (2) + Zod (33) + Eth (5)

Weapons {4}
Level: 67

100% Chance To Cast Level 36 Blaze When You Level-Up
100% Chance To Cast Level 48 Meteor When You Die
Level 16 Holy Fire Aura When Equipped
+33% Increased Attack Speed
+280-330% Enhanced Damage (varies)
Ignore Target's Defense
7% Life Stolen Per Hit
-20% To Enemy Fire Resistance
20% Deadly Strike
Hit Blinds Target
Freezes Target +3

Sur (29) + Cham (32) + Amn (11) + Lo (28)

Weapons {4}
Level: 65

100% Chance To Cast level 40 Blaze When You Level-up
40% Chance To Cast Level 22 Firestorm On Striking
Level 10-15 Redemption Aura When Equipped (varies)
+350-400% Enhanced Damage (varies)
Ignores Target's Defense
14% Mana Stolen Per Hit
-28% To Enemy Fire Resistance
20% Deadly Strike
+350-400 Defense Vs. Missile (varies)
+15-21 Fire Absorb (varies)

Vex (26) + Vex (26) + Lo (28) + Jah (31)

Weapons {4}
Level: 59

20% Chance To Cast Level 15 Chilling Armor when Struck
+25% Faster Cast Rate
+300% Enhanced Damage
+9 To Minimum Damage
+50 To Attack Rating
20% Deadly Strike
Hit Causes Monster To Flee 25%
+200% Enhanced Defense
+X To Life (Based on Character Level)*
All Resistances +25-30 (varies)
12% Damage Taken Goes To Mana
+1 To Light Radius

El (1) + Sol (12) + Dol (14) + Lo (28)

Weapons {5}
Level: 57

+1 To All Skills
+40% Increased Attack Speed
+250-290% Enhanced Damage (varies)
Adds 5-30 Fire Damage
7% Life Stolen Per Hit
+2-6 To Battle Command (varies)*
+1-6 To Battle Orders (varies)*
+1-4 To Battle Cry (varies)*
Prevent Monster Heal
Replenish Life +12
30% Better Chance of Getting Magic Items

Amn (11) + Ral (8) + Mal (23) + Ist (24) + Ohm (27)

Weapons {6}
Level: 55

200% Enhanced Damage
+75% Damage To Undead
Requirements -20%
20% Increased Attack Speed
+50 To Attack Rating Against Undead
+2 To All Skills
All Resistances +75
20% Faster Hit Recovery
11% Mana Stolen Per Hit
Hit Causes Monster To Flee 25%
Hit Blinds Target +33
+2 To Mana After Each Kill
30% Better Chance Of Getting Magic Items

Dol (14) + Eld (2) + Hel (15) + Ist (24) + Tir (3) + Vex (26)

Weapons {3}
Level: 49

Hit Causes Monster To Flee 25%
Prevent Monster Heal
Ignore Target's Defense
7% Mana Stolen Per Hit
Level 15 Poison Explosion (27 Charges)
Level 13 Poison Nova (11 Charges)
+273 Poison Damage Over 6 seconds

Tal (7) + Dol (14) + Mal (23)

Weapons {4}
Level: 43

+25% Increased Attack Speed
+160-210% Enhanced Damage (varies)
50-80% Bonus To Attack Rating (varies)
+75% Damage To Undead
+50 To Attack Rating Against Undead
Adds 1-50 Lightning Damage
+1 To Berserk
+1 To Zeal
Hit Blinds Target +10
Hit Causes Monster To Flee 25%
75% Extra Gold From Monsters
Level 3 Heart of Wolverine (12 Charges)

Dol (14) + Ort (9) + Eld (2) + Lem (20)
All Melee Weapon Runewords
Runeword
Properties

Melee Weapons {3}
Level: 65

+209% Enhanced Damage
40% Increased Attack Speed
Prevent Monster Heal
66% Chance Of Open Wounds
33% Deadly Strike
Ignore Target's Defense
-25% Target Defense
20% Bonus To Attack Rating
6% Life Stolen Per Hit
+5 To Frenzy (Barbarian Only)

Jah (31) + Gul (25) + Eth (5)

Melee Weapons {5}
Level: 63

Indestructible
+260-310% Enhanced Damage (varies)
+9 To Minimum Damage
7% Life Stolen Per Hit
20% Chance of Crushing Blow
Hit Blinds Target
Slows Target By 33%
Regenerate Mana 16%
Replenish Life +16
Cannot Be Frozen
30% Better Chance Of Getting Magic Items
Level 8 Revive (88 Charges)

Amn (11) + Ber (30) + Ist (24) + Sol (12) + Sur (29)

Melee Weapons {2}
Level: 61

10% Chance To Cast Level 9 Tornado On Striking
+20% Faster Run/Walk
+40% Increased Attack Speed
+15% Faster Hit Recovery
+120-160% Enhanced Damage (varies)
-50% Target Defense
+50 To Attack Rating
Hit Blinds Target
+1 To Light Radius
Level 13 Twister (127 Charges)

Sur (29) + El (1)

Melee Weapons {5}
Level: 27

+160% Enhanced Damage
+9 To Minimum Damage
+9 To Maximum Damage
25% Deadly Strike
+250 To Attack Rating
+1 to All Skills
7% Life Stolen Per Hit
Replenish Life +10
+10 To Strength
+1 To Light Radius
+2 To Mana After Each Kill

Amn (11) + El (1) + Ith (6) + Tir (3) + Sol (12)

Melee Weapons {2}
Level: 25

35% Enhanced Damage
25% Chance Of Crushing Blow
7% Life Stolen Per Hit
+2 To Mana After Each Kill
+20 To Strength
+10 To Vitality

Amn (11) + Tir (3)

Melee Weapons {3}
Level: 15

+33% Enhanced Damage
+9 To Maximum Damage
100% Chance Of Open Wounds
-25% Target Defense
-100 To Monster Defense Per Hit
Prevent Monster Heal
+50 To Attack Rating
Drain Life -5

Ith (6) + El (1) + Eth (5)
Specific Melee Weapon Runewords
Runeword
Properties

Axes, Hammers & Polearms {5}
Level: 67

5% Chance To Cast Level 18 Volcano On Striking
Level 12 Holy Freeze Aura When Equipped
+2 To All Skills
+45% Increased Attack Speed
+330-370% Enhanced Damage (varies)
-(40-60)% To Enemy Cold Resistance (varies)
20% Deadly Strike
25% Chance of Open Wounds
Prevent Monster Heal
Freezes Target +3
Requirements -20%

Hel (15) + Ohm (27) + Um (22) + Lo (28) + Cham (32)

Polearms {4}
Level: 67

25% Chance To Cast Level 17 Fire Wall When Struck
Level 16-20 Concentration Aura When Equipped (varies)
260-300% Bonus To Attack Rating (varies)
+1-99% Damage To Demons (Based on Character Level)
Adds 50-280 Lightning Damage
20% Deadly Strike
Hit Blinds Target
Freezes Target +3
+10 To Vitality
Replenish Life +8
1.875-185.625% Extra Gold From Monsters (Based on Character Level)

Cham (32) + Sur (29) + Io (16) + Lo (28)

Polearms & Swords {5}
Level: 65

23% Chance To Cast Level 12 Volcano On Striking
5% Chance To Cast Level 23 Molten Boulder On Striking
100% Chance To Cast level 45 Meteor When You Die
15% Chance To Cast Level 22 Nova On Attack
+350% Enhanced Damage
Ignore Target's Defense
Adds 100-180 Magic Damage
7% Mana Stolen Per Hit
20% Chance Of Crushing Blow
20% Deadly Strike
Prevent Monster Heal
+10 To Dexterity

Vex (26) + Lo (28) + Ber (30) + Jah (31) + Ko (18)

Axes & Hammers {4}
Level: 65

+30% Increased Attack Speed
+320-370% Enhanced Damage (varies)
Ignore Target's Defense
Adds 180-200 Magic Damage
Adds 50-200 Fire Damage
Adds 51-250 Lightning Damage
Adds 50-200 Cold Damage
12% Life Stolen Per Hit
Prevent Monster Heal
+10 To Strength

Fal (19) + Ohm (27) + Ort (9) + Jah (31)

Axes, Hammers & Swords {6}
Level: 65

6% Chance To Cast Level 11 Fade When Struck
10% Chance To Cast Level 18 Life Tap On Striking
20% Chance To Cast Level 20 Charged Bolt On Attack
Level 17 Might Aura When Equipped
+330-375% Enhanced Damage (varies)
Ignore Target's Defense
60-70% Chance of Crushing Blow (varies)
Prevent Monster Heal
Hit Blinds Target
+(0.5 per character level) 0.5-49.5% Chance of Getting Magic Items (Based on Character Level)

Jah (31) + Mal (23) + Jah (31) + Sur (29) + Jah (31) + Ber (30)

Axes, Hammers & Scepters {5}
Level: 63

Level 9 Fanaticism Aura When Equipped
+40% Increased Attack Speed
+240-270% Enhanced Damage (varies)
20% Chance of Crushing Blow
25% Chance of Open Wounds
+3 To Werebear
+3 To Lycanthropy
Prevent Monster Heal
+25-40 To Strength (varies)
+10 To Energy
+2 To Mana After Each Kill
Level 13 Summon Grizzly (5 Charges)

Ber (30) + Tir (3) + Um (22) + Mal (23) + Lum (17)

Polearms {4}
Level: 63

50% Chance To Cast Level 20 Chain Lightning When You Kill An Enemy
Level 12 Conviction Aura When Equipped
+35% Faster Run/Walk
+255-325% Enhanced Damage (varies)
-(45-55)% To Enemy Lightning Resistance (varies)
40% Chance of Crushing Blow
Prevent Monster Heal
0.5-49.5 To Vitality (Based on Character Level)
30% Better Chance of Getting Magic Items
Level 21 Cyclone Armor (30 Charges)

Ber (30) + Mal (23) + Ber (30) + Ist (24)

Swords & Axes {5}
Level: 59

35% Chance To Cast Level 15 Venom On Striking
+30-40% Increased Attack Speed (varies)
Damage +340-400 (varies)
Ignore Target's Defense
-25% Target Defense
+(1.875 per character level) 1.875-185.625% Damage To Demons (Based on Character Level)
Adds 5-30 Fire Damage
-20-25% To Enemy Poison Resistance (varies)
20% Deadly Strike
Prevent Monster Heal
+2 To Mana After Each Kill
+10-15 Life After Each Kill (varies)

Eth (5) + Tir (3) + Lo (28) + Mal (23) + Ral (8)

Axes, Maces & Swords {4}
Level: 59

30% Chance To Cast Level 20 Bone Spirit On Striking
Indestructible
+50% Increased Attack Speed
+210-340% Enhanced Damage (varies)
+75% Damage To Demons
+100 To Attack Rating Against Demons
Prevent Monster Heal
+10 To Energy
+10-15 Magic Absorb (varies)
Level 16 Heart Of Wolverine (20 Charges)
Level 17 Iron Golem (14 Charges)

Shael (13) + Pul (21) + Mal (23) + Lum (17)

Claws {3}
Level: 57

9% Chance To Cast Level 11 Frozen Orb On Striking
11% Chance To Cast Level 9 Charged Bolt On Striking
+35% Increased Attack Speed
+290-340% Enhanced Damage (varies)
Adds 216-471 Magic Damage
25% Chance of Open Wounds
+1 To Whirlwind
+10 To Strength
+15 Life After Each Demon Kill

Fal (19) + Ohm (27) + Um (22)

Swords & Axes {5}
Level: 55

100% Chance To Cast Level 44 Chain Lightning When You Die
25% Chance To Cast Level 18 Glacial Spike On Attack
Indestructible
+300-385% Enhanced Damage (varies)
20% Bonus To Attack Rating
+50 To Attack Rating
Adds 1-50 Lightning Damage
7% Mana Stolen Per Hit
50% Chance of Crushing Blow
+(0.5 per Character Level) 0.5-49.5% Deadly Strike (Based on Character Level)
+1 To Light Radius
Level 22 Blood Golem (15 Charges)
Requirements -20%

Hel (15) + El (1) + Vex (26) + Ort (9) + Gul (25)

Staves & Maces {4}
Level: 55

+3 To All Skills
+40% Faster Cast Rate
+75% Damage To Demons
+100 To Attack Rating Against Demons
Adds 3-14 Cold Damage, 3 sec. Duration (Normal)
7% Mana Stolen Per Hit
+10 To Dexterity
Replenish Life +20
Increase Maximum Mana 15%
All Resistances +30-40 (varies)
Level 4 Oak Sage (25 Charges)
Level 14 Raven (60 Charges)

Ko (18) + Vex (26) + Pul (21) + Thul (10)

Swords & Axes {4}
Level: 53

+30% Increased Attack Speed
+230-270% Enhanced Damage (varies)
-25% Target Defense
20% Bonus To Attack Rating
33% Chance of Crushing Blow
50% Chance of Open Wounds
+1 To Vengeance
Prevent Monster Heal
+10 To Strength
40% Extra Gold From Monsters

Mal (23) + Um (22) + Gul (25) + Fal (19)

Polearms & Scepters {4}
Level: 53

20% Chance To Cast Level 16 Tornado On Striking
16% Chance To Cast Level 21 Frozen Orb On Attack
20% Bonus To Attack Rating
Adds 160-250 Magic Damage
Adds 60-180 Fire Damage
+5-10 To All Stats (varies)
+10 To Dexterity
38% Damage Taken Goes To Mana
75% Extra Gold From Monsters
Level 15 Iron Maiden (40 Charges)
Requirements -20%

Hel (15) + Ko (18) + Lem (20) + Gul (25)

Axes, Polearms & Swords {3}
Level: 47

10% Chance To Cast Level 17 Chain Lightning On Striking
7% Chance To Cast Level 13 Static Field On Striking
+20% Increased Attack Speed
+180-220% Enhanced Damage (varies)
Ignore Target's Defense
-35% To Enemy Lightning Resistance
25% Chance of Open Wounds
+9-11 Magic Absorb (varies)
+2 To Mana After Each Kill
Level 18 Summon Spirit Wolf (30 Charges)

Shael (13) + Um (22) + Tir (3)

Hammers, Scepters & Swords {3}
Level: 43

20% Chance To Cast Level 15 Decrepify On Striking
Level 16-18 Sanctuary Aura When Equipped (varies)
-50% Target Defense
Adds 150-210 Fire Damage
Adds 130-180 Cold Damage
7% Life Stolen Per Hit
Slain Monsters Rest In Peace
+200-250 Defense Vs. Missile (varies)
+10 To Dexterity
75% Extra Gold From Monsters

Amn (11) + Lem (20) + Ko (18)

Maces & Swords {4}
Level: 43

15% Chance To Cast Level 13 Frozen Orb On Striking
18% Chance To Cast Level 20 Ice Blast On Striking
+50 To Attack Rating
+220-350% Damage To Demons
+355-375% Damage To Undead (varies)
+50 To Attack Rating Against Undead
Adds 100-220 Cold Damage
-24% To Enemy Cold Resistance
+10 To Dexterity
Cannot Be Frozen
75% Extra Gold From Monsters
+1 To Light Radius

Lem (20) + Ko (18) + El (1) + Eld (2)

Polearms {5}
Level: 41

30% Chance To Cast Level 21 Enchant When You Kill An Enemy
40% Faster Hit Recovery
+370% Enhanced Damage
-25% Target Defense
Adds 3-14 Cold Damage 3 Second Duration (Normal)
-25% To Enemy Fire Resistance
40% Chance of Crushing Blow
+200-300 Defense (varies)
+10 To Strength
+10 To Dexterity
All Resistances +20-30 (varies)
Requirements -20%

Hel (15) + Ko (18) + Thul (10) + Eth (5) + Fal (19)

Staves {4}
Level: 37

+3 to Sorceress Skill Levels
33% Faster Cast Rate
Increase Maximum Mana 20%
+3 Energy Shield (Sorceress Only)
+2 Static Field (Sorceress Only)
+10 To Energy
+10 To Vitality
+9 To Minimum Damage
-25% Target Defense
Magic Damage Reduced By 7
+50% Enhanced Defense

Lum (17) + Io (16) + Sol (12) + Eth (5)

Clubs, Hammers, Maces {3}
Level: 35

+120% Enhanced Damage
40% Chance Of Crushing Blow
+200 To Attack Rating
Adds 3-14 Cold Damage - Cold Duration 3 Seconds
+10 To Vitality
15% Increased Attack Speed
Knockback
Magic Damage Reduced By 2
Level 4 Corpse Explosion (12 Charges)

Thul (10) + Io (16) + Nef (4)

Wands {2}
Level: 35

Hit Causes Monster To Flee 25%
+10 To Vitality
+3 To Poison And Bone Skills (Necromancer Only)
+3 To Bone Armor (Necromancer Only)
+2 To Bone Spear (Necromancer Only)
+4 To Skeleton Mastery (Necromancer Only)
Magic Damage Reduced By 4
20% Faster Cast Rate
+13 To Mana

Dol (14) + Io (16)

Polearms & Staves {4}
Level: 27

Level 12-17 Meditation Aura When Equipped (varies)
+35% Faster Cast Rate
+200-260% Enhanced Damage (varies)
+9 To Minimum Damage
180-250% Bonus to Attack Rating (varies)
Adds 5-30 Fire Damage
+75 Poison Damage Over 5 Seconds
+1-6 To Critical Strike (varies)
+5 To All Attributes
+2 To Mana After Each Kill
23% Better Chance of Getting Magic Items

Ral (8) + Tir (3) + Tal (7) + Sol (12)

Swords & Scepters {3}
Level: 25

+100% Enhanced Damage
+100% Damage To Demons
+50% Damage To Undead
Adds 5-30 Fire Damage
Adds 3-14 Cold Damage - 3 Second Duration
+150 To Attack Rating
+100 To Attack Rating Against Demons
+100 To Attack Rating Against Undead
7% Life Stolen Per Hit

Amn (11) + Ral (8) + Thul (10)

Swords {4}
Level: 25

+2 To All Skills
+25-35% Faster Cast Rate (varies)
+55% Faster Hit Recovery
Adds 1-50 Lightning Damage
Adds 3-14 Cold Damage 3 Second Duration (Normal)
+75 Poison Damage Over 5 Seconds
7% Life Stolen Per Hit
+250 Defense Vs. Missile
+22 To Vitality
+89-112 To Mana (varies)
+3-8 Magic Absorb (varies)

Tal (7) + Thul (10) + Ort (9) + Amn (11)

Scepters {4}
Level: 23

+60% Enhanced Damage
-25% Target Defense
Adds 5-30 Fire Damage
Adds 21-110 Lightning Damage
+75 Poison Damage Over 5 Seconds
+10 To Maximum Damage
Lightning Resistance +60%
+5 To Maximum Lightning Resistance
+3 To Holy Shock (Paladin Only)
Level 7 Chain Lightning (60 Charges)

Eth (5) + Ral (8) + Ort (9) + Tal (7)

Staves {2}
Level: 19

Adds 5-30 Fire Damage
+3 To Fire Skills
+3 To Fire Bolt (Sorceress Only)
+3 To Inferno (Sorceress Only)
+3 To Warmth (Sorceress Only)
+2 To Mana After Each Kill
+ (2 Per Character Level) +2-198 To Defense (Based On Character Level)
Cold Resist +33%

Tir (3) + Ral (8)

Swords, Axes, Maces {2}
Level: 13

20% Enhanced Damage
+3 To Minimum Damage
+3 To Maximum Damage
+50 To Attack Rating
50% Chance Of Open Wounds
25% Increased Attack Speed
+2 To Mana After Each Kill
+1 To Light Radius

Tir (3) + El (1)
All Missile Weapon Runewords
Runeword
Properties

Missile Weapons {4}
Level: 65

35% Chance To Cast Level 14 Amplify Damage When Struck
100% Chance To Cast Level 18 Bone Spear On Striking
+260-340% Enhanced Damage (varies)
Ignore Target's Defense
20% Bonus to Attack Rating
+280-330% Damage To Demons (varies)
20% Deadly Strike
Prevent Monster Heal
Knockback
Fires Explosive Arrows or Bolts (15)

Jah (31) + Lo (28) + Mal (23) + Gul (25)

Missile Weapons {4}
Level: 65

Level 12-15 Fanaticism Aura When Equipped (varies)
+1-2 To All Skills (varies)
+330% Enhanced Damage
Ignore Target's Defense
300% Bonus To Attack Rating
+75% Damage To Undead
+50 To Attack Rating Against Undead
+120 Fire Damage
All Resistances +15
10% Reanimate As: Returned
75% Extra Gold From Monsters

Ohm (27) + Jah (31) + Lem (20) + Eld (2)

Missile Weapons {4}
Level: 65

100% Chance To Cast Level 40 Blizzard When You Level-up
25% Chance To Cast Level 22 Frost Nova On Striking
Level 18 Holy Freeze Aura When Equipped
+20% Increased Attack Speed
+140-210% Enhanced Damage (varies)
Ignore Target's Defense
+25-30% To Cold Skill Damage (varies)
-20% To Enemy Cold Resistance
7% Life Stolen Per Hit
20% Deadly Strike
3.125-309.375 Extra Gold From Monsters (Based on Character Level)

Amn (11) + Shael (13) + Jah (31) + Lo (28)

Missile Weapons {4}
Level: 63

30% Chance To Cast Level 1 Decrepify On Striking
5% Chance To Cast Level 10 Life Tap On Striking
+375% Damage To Demons
+100 To Attack Rating Against Demons
+250-300% Damage To Undead (varies)
Adds 85-120 Magic Damage
Adds 41-240 Lightning Damage
20% Chance of Crushing Blow
Prevent Monster Heal
+10 To Energy
Cannot Be Frozen

Pul (21) + Lum (17) + Ber (30) + Mal (23)

Missile Weapons {4}
Level: 39

Level 10 Vigor Aura When Equipped
+200-275% Enhanced Damage (varies)
+9 To Minimum Damage
+9 To Maximum Damage
Adds 55-160 Lightning Damage
Adds 55-160 Fire Damage
Adds 55-160 Cold Damage
+2-6 To Valkyrie (varies)
+10 To Dexterity
Regenerate Mana 20%
+2 To Mana After Each Kill
+2 To Light Radius
Level 20 Revive (25 Charges)

Tir (3) + Ith (6) + Sol (12) + Ko (18)

Missile Weapons {3}
Leel: 39

+50% Enhanced Damage
+300% Damage To Undead
+3 To Bow and Crossbow Skills (Amazon Only)
+3 To Critical Strike (Amazon Only)
+3 To Dodge (Amazon Only)
+3 To Slow Missiles (Amazon Only)
20% Increased Attack Speed
+10 To Dexterity
Knockback

Shael (13) + Ko (18) + Nef (4)

Missile Weapons {3}
Level: 25

Level 15 Thorns Aura When Equipped
+35% Increased Attack Speed
+320-380% Damage To Demons (varies)
+280% Damage To Undead
+75 Poison Damage Over 5 Seconds
7% Life Stolen Per Hit
Prevent Monster Heal
+5-10 To All Attributes (varies)
+2 To Mana After Each Kill
Reduces All Vendor Prices 15%

Tir (3) + Tal (7) + Amn (11)

Missile Weapons {2}
Level: 21

+33% Enhanced Damage
+66 To Attack Rating
Adds 1-50 Lightning Damage
-25% Target Defense
+25 Defense
25% Faster Run/Walk
25% Increased Attack Speed
7% Chance To Cast Level 1 Twister When Struck

Ort (9) + Eth (5)