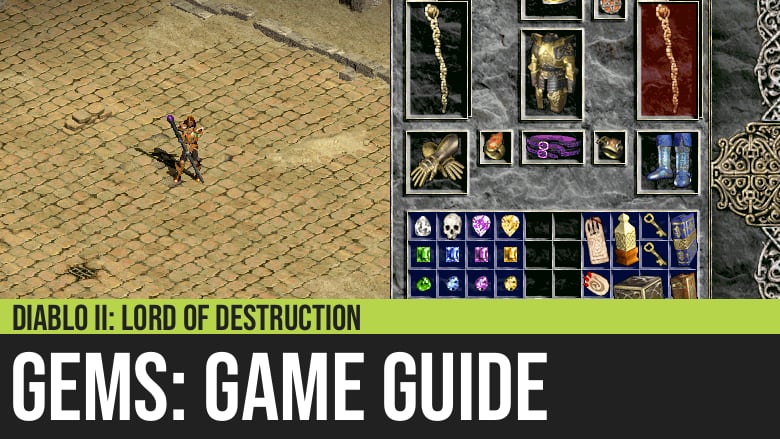 Diablo II: Gems Guide
Gems are socketable items in Diablo II, similar to runes and jewels. Though they are the least powerful of the three kinds of socketables, they have many significant uses in various Horadric Cube recipes. Also, they are the most common to find and easiest to collect among the three.
Removing Gems in Items
Similar to runes and jewels, there is no existing method to claim back the gems once placed in a socket. However, there is a recipe for removing them from socketable items. The gems will be lost, though afterwards.
Gem Types
There are seven kinds of gems in the game, and each of them gives a bonus attribute when socketed.
| Gem | Weapons | Shields | Helms and Armor |
| --- | --- | --- | --- |
| Amethyst | +Attack rating | +Defense | +Strength |
| Diamond | +Damage to undead | +All resistances | +Attack rating |
| Emerald | +Poison damage | +Poison resistance | +Dexterity |
| Ruby | +Fire damage | +Fire resistance | +Maximum life |
| Sapphire | +Cold damage | +Cold resistance | +Maximum mana |
| Topaz | +Lightning damage | +Lightning resistance | +Magic find |
| Skulls | +Mana and life steal | +Attacker takes damage | +Mana and life regeneration |
Gem Qualities
Gems have five qualities, from lowest to highest.
Chipped
Flawed
Normal
Flawless
Perfect
All of them are useful for Horadric Cube transmutations, even the chipped ones. You will need them for upgrading runes and even for upping unique weapons and armors.
Upgrading Gems
Gems can be upgraded to their next quality level without using any other upgrade material. All you need is the Horadric Cube. The formula for upgrading through transmutation is consistent across all qualities:
Next level gem = 3 x lower level gem
Gem Shrines
Gem Shrines can help you in increasing your gem collection. It follows these game mechanics:
If you have a gem in your inventory and you triggered this shrine, that gem will be upgraded to the next higher quality level.


If you have more than one gem in your inventory, the upgrade will select a random gem among them.

If you don't have a gem in your inventory, a random type chipped gem will be given by the shrine.
In both cases, the gem will drop near you, and you have to pick it up manually.
Hellforge Quest
The Hellforge Quest in Act IV will reward you with guaranteed four gems. You have to pick them up manually, though. Regardless of the difficulty mode, you are playing, one of the gems is a guaranteed perfect quality gem. You can also get runes from this quest as a reward.
Gem Mechanics
The bonuses from gems of the same type stack.
If you have two emeralds socketed in a weapon, the poison damage will be added together.
Gems in the shield of a Paladin do not contribute to his Smite attack.
Gems can't be bought and can only be found as loot from monsters, chests, and quest rewards.
Perfect gems are never dropped anywhere in the game, except in the Hellforge quest.
Gems can never be gained back after being socketed in an item.
The first gem placed on a socketable item will set its color
If a weapon has different kinds of gems, its attack will contain all the effects of the gems. However, it will only display one random effect on the attack.
List of Gems
Amethyst
Gem
Req
Level
Item
Chipped
1
Weapons: +40 to Attack Rating
Shields: +8 to Defense
Armor: +3 to Strength
Flawed
5
Weapons: +60 to Attack Rating
Shields: +12 to Defense
Armor: +4 to Strength
Regular
12
Weapons: +80 to Attack Rating
Shields: +18 to Defense
Armor: +6 to Strength
Flawless
15
Weapons: +100 to Attack Rating
Shields: +24 to Defense
Armor: +8 to Strength
Perfect
18
Weapons: +150 to Attack Rating
Shields: +30 to Defense
Armor: +10 to Strength
Diamond
Gem
Req
Level
Item
Chipped
1
Weapons: +28% Damage vs. Undead
Shields: All Resistances +6%
Armor: +20 to attack Rating
Flawed
5
Weapons: +34% Damage vs. Undead
Shields: All Resistances +8%
Armor: +20 to attack Rating
Regular
12
Weapons: +44% Damage vs. Undead
Shields: All Resistances +11%
Armor: +60 to attack Rating
Flawless
15
Weapons: +54% Damage vs. Undead
Shields: All Resistances +14%
Armor: +80 to attack Rating
Perfect
18
Weapons: +68% Damage vs. Undead
Shields: All Resistances +19%
Armor: +100 to attack Rating
Emerald
Gem
Req
Level
Item
Chipped
1
Weapons: +10 Poison Damage over 3 Seconds
Shields: 12% Resist Poison
Armor: +3 to Dexterity
Flawed
5
Weapons: +20 Poison Damage over 4 Seconds
Shields: 16% Resist Poison
Armor: +4 to Dexterity
Regular
12
Weapons: +40 Poison Damage over 5 Seconds
Shields: 22% Resist Poison
Armor: +4 to Dexterity
Flawless
15
Weapons: +60 Poison Damage over 6 Seconds
Shields: 28% Resist Poison
Armor: +8 to Dexterity
Perfect
18
Weapons: +100 Poison Damage over 7 Seconds
Shields: 40% Resist Poison
Armor: +10 to Dexterity
Ruby
Gem
Req
Level
Item
Chipped
1
Weapons: +3-4 Fire Damage
Shields: +12% Resist Fire
Armor: +10 to Life
Flawed
5
Weapons: +5-8 Fire Damage
Shields: +16% Resist Fire
Armor: +17 to Life
Regular
12
Weapons: +8-12 Fire Damage
Shields: +22% Resist Fire
Armor: +24 to Life
Flawless
15
Weapons: +10-16 Fire Damage
Shields: +28% Resist Fire
Armor: +31 to Life
Perfect
18
Weapons: +15-20 Fire Damage
Shields: +40% Resist Fire
Armor: +38 to Life
Sapphire
Gem
Req
Level
Item
Chipped
1

Weapons:
+1-3 Cold Damage
1.0 sec Duration
Shields: +12% Resist Cold
Armor: +10 Max Mana

Flawed
5
Weapons:
+3-5 Cold Damage
1.4 sec Duration
Shields: +16% Resist Cold
Armor: +17 Max Mana
Regular
12
Weapons:
+4-7 Cold Damage
2.0 sec Duration
Shields: +22% Resist Cold
Armor: +24 Max Mana
Flawless
15
Weapons:
+6-10 Cold Damage
2.4 sec Duration
Shields: +28% Resist Cold
Armor: +31 Max Mana
Perfect
18
Weapons:
+10-14 Cold Damage
3.0 sec Duration
Shields: +40% Resist Cold
Armor: +38 Max Mana
Topaz
Gem
Req
Level
Item
Chipped
1
Weapons: +1-8 Lightning Damage
Shields: +12% Resist Lightning
Armor: +9% Chance to Find Magic Items
Flawed
5
Weapons: +1-14 Lightning Damage
Shields: +16% Resist Lightning
Armor: +13% Chance to Find Magic Items
Regular
12
Weapons: +1-22 Lightning Damage
Shields: +22% Resist Lightning
Armor: +16% Chance to Find Magic Items
Flawless
15
Weapons: +1-30 Lightning Damage
Shields: +28% Resist Lightning
Armor: +20% Chance to Find Magic Items
Perfect
18
Weapons: +1-40 Lightning Damage
Shields: +40% Resist Lightning
Armor: +24% Chance to Find Magic Items
Skulls
Gem
Req
Level
Item
Chipped
1
Weapons: Steals 2% life, 1% Mana
Shields: Attacker Takes 4 Damage
Armor:
Replenish Life +2
Regenerate Mana 8%
Flawed
5
Weapons: Steals 2% life, 2% Mana
Shields: Attacker Takes 8 Damage
Armor:
Replenish Life +3
Regenerate Mana 8%
Regular
12
Weapons: Steals 3% life, 2% Mana
Shields: Attacker Takes 12 Damage
Armor:
Replenish Life +3
Regenerate Mana 12%
Flawless
15
Weapons: Steals 3% life, 3% Mana
Shields: Attacker Takes 16 Damage
Armor:
Replenish Life +4
Regenerate Mana 12%
Perfect
18
Weapons: Steals 4% life, 3% Mana
Shields: Attacker Takes 20 Damage
Armor:
Replenish Life +5
Regenerate Mana 19%