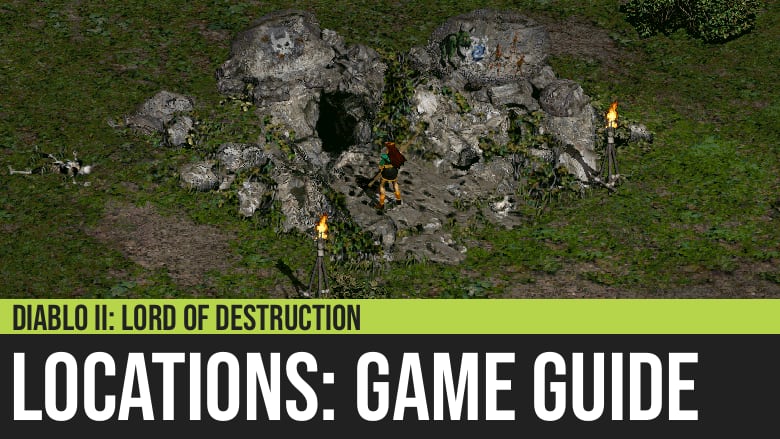 Diablo II: Locations Guide
Locations in Diablo II are among the most memorable in video games. Most of us have memories of the path to Baal and his throne room, of the temple entrance where Pindleskin guards, of the center of Chaos Sanctuary where Diablo appears, and more. We all know that The Pit is the best place to find white and socketable items, and that the Forgotten Tower is the best hunting ground for good runes.
These locations are memorable because they are farming locations, and Diablo II, being the best loot-based game, has plenty of them.
Diablo II uses the concepts of Area and Area Levels for its locations.
Concept of Areas
Most of the areas in Diablo II are randomly generated. For example, if you change your game mode, say from Hell to Nightmare, and revisit an area, it will have a different layout. Hence, some players who would like to farm an area, say the Forgotten Tower, will keep on reloading the layout until they get the best one that takes the least distance to reach the Countess.
However, several of the famous farming locations are fixed. Some good examples are Chaos Sanctuary, Andariel's floor, Baals' floor, Mephisto's floor, and more.
Some areas have waypoints, and some don't have. These areas without waypoints can typically be found located within another area. For example, the Ancient Tunnels can be found in Lost City. There are some areas though that are located in another area, though both of them don't have waypoints. For example, The Pit can be found in Tamoe Highland, an area that does not also have a waypoint. They are typically harder to reach for farming unless a different path is available for accessing them. The Pit can be reached by the Outer Cloister, which has a waypoint.
Concept of Area Levels
The main reason some areas are good farming locations has to do with the concept of Area Level. An area level is a hidden attribute attached to a location in Diablo II that determines various things like item drops - their kind and quality.
For example, if you are hunting for a Skiller Grand Charm, you need to know that they can only be found from the Great Marsh area, in Nightmare mode, and onwards. You will not be able to find this loot elsewhere.
How it works:
- A Skiller Grand Charm is an item with an ilvl of 50+
- It can only drop from monsters with mlvl of 50+
- This monster can only appear in a location with area level of 50+
In summary:
Item level is determined by Area level.
Area and Area Level Game Mechanics
Area Level mechanics only work in Nightmare and Hell, and not in Normal
Monster level is identical to the area level unless the monster is a Boss monster

All non-boss monsters in the same area have the same level

Boss monsters will always have their own monster level, regardless of the area


Act Bosses


Andariel
Duriel
Mephisto
Diablo
Baal

Ubers


Uber Diablo
Uber Izual
Uber Duriel
Lilith
Uber Baal
Pandemonium Diablo
Uber Mephisto

Super Unique Bosses


Blood Raven
Griswold
Radament
The Summoner
Izual
Nihlathak

Special


Chests and their treasures also have the same level as their area. Higher area levels mean better items from chests.
Areas in Act I: The Sightless Eye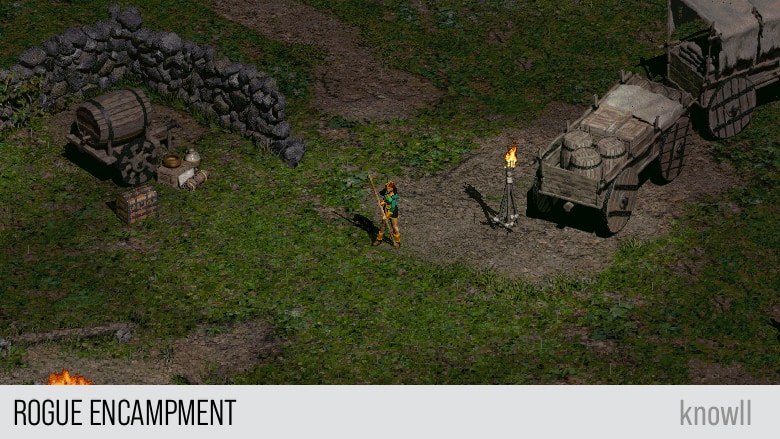 Rogue Encampment (With Waypoint)

Blood Moor

Cold Plains (With Waypoint)

Burial Grounds

Stony Field

Underground Passage
Dark Wood (With Waypoint)
Black Marsh (With Waypoint)

Tamoe Highland

Monastery Gate
Outer Cloister (With Waypoint)
Barracks
Jail (With Waypoint)
Inner Cloister (With Waypoint)
Cathedral
Catacombs (With Waypoint)
Area Levels in Act I: The Sightless Eye
| Area | Hell | Nightmare | Normal |
| --- | --- | --- | --- |
| Blood Moor | 67 | 36 | 1 |
| Den of Evil | 79 | 36 | 1 |
| Cold Plains | 68 | 36 | 2 |
| The Cave Level 1 | 77 | 36 | 2 |
| The Cave Level 2 | 78 | 37 | 2 |
| Burial Grounds | 80 | 36 | 3 |
| The Crypt | 83 | 37 | 3 |
| The Mausoleum | 85 | 37 | 3 |
| Stony Field | 68 | 37 | 4 |
| Tristram | 76 | 39 | 6 |
| Underground Passage Level 1 | 69 | 37 | 4 |
| Underground Passage Level 2 | 83 | 38 | 4 |
| Dark Wood | 68 | 38 | 5 |
| Black Marsh | 69 | 38 | 6 |
| Tower Cellar Level 1 | 75 | 38 | 7 |
| Tower Cellar Level 2 | 76 | 39 | 7 |
| Tower Cellar Level 3 | 77 | 40 | 7 |
| Tower Cellar Level 4 | 78 | 41 | 7 |
| Tower Cellar Level 5 | 79 | 42 | 7 |
| The Hole Level 1 | 80 | 38 | 5 |
| The Hole Level 2 | 81 | 39 | 5 |
| Tamoe Highland | 69 | 39 | 8 |
| The Pit Level 1 | 85 | 39 | 7 |
| The Pit Level 2 | 85 | 40 | 7 |
| Monastery Gate | 70 | 40 | 8 |
| Outer Cloister | 70 | 40 | 9 |
| Barracks | 70 | 40 | 9 |
| Jail Level 1 | 71 | 41 | 10 |
| Jail Level 2 | 71 | 41 | 10 |
| Jail Level 3 | 71 | 41 | 10 |
| Inner Cloister | 72 | 41 | 10 |
| Cathedral | 72 | 42 | 11 |
| Catacombs Level 1 | 72 | 42 | 11 |
| Catacombs Level 2 | 73 | 42 | 11 |
| Catacombs Level 3 | 73 | 43 | 12 |
| Catacombs Level 4 | 73 | 43 | 12 |
| Secret Cow Level | 81 | 64 | 28 |
Areas in Act II: The Secret of the Vizjerei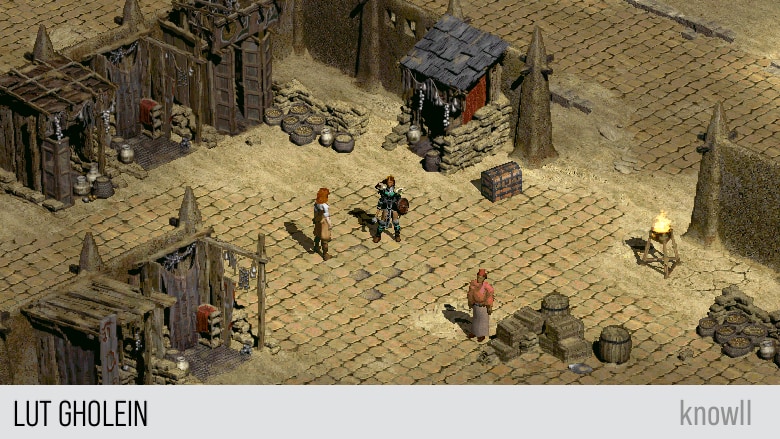 Lut Gholein (With Waypoint)

Rocky Waste
Stony Tomb
Dry Hills (With Waypoint)


Halls of the Dead (With Waypoint)

Far Oasis (With Waypoint)

Lost City (With Waypoint)

Valley of Snakes

Palace
Harem
Palace Cellar (With Waypoint)
Arcane Sanctuary (With Waypoint)
Canyon of the Magi (With Waypoint)
Tal Rasha's Tomb

Area Levels in Act II: The Secret of the Vizjerei
| Area | Hell | Nightmare | Normal |
| --- | --- | --- | --- |
| Sewers Level 1 | 74 | 43 | 13 |
| Sewers Level 2 | 74 | 43 | 13 |
| Sewers Level 3 | 75 | 44 | 14 |
| Rocky Waste | 75 | 43 | 14 |
| Stony Tomb Level 1 | 78 | 44 | 12 |
| Stony Tomb Level 2 | 79 | 44 | 12 |
| Dry Hills | 76 | 44 | 15 |
| Halls of the Dead Level 1 | 79 | 44 | 12 |
| Halls of the Dead Level 2 | 81 | 45 | 13 |
| Halls of the Dead Level 3 | 82 | 45 | 13 |
| Far Oasis | 76 | 45 | 16 |
| Maggot Lair Level 1 | 84 | 45 | 17 |
| Maggot Lair Level 2 | 84 | 45 | 17 |
| Maggot Lair Level 3 | 85 | 46 | 17 |
| Lost City | 77 | 46 | 17 |
| Ancient Tunnels | 85 | 46 | 17 |
| Valley of Snakes | 77 | 46 | 18 |
| Claw Viper Temple Level 1 | 82 | 47 | 14 |
| Claw Viper Temple Level 2 | 83 | 47 | 14 |
| Harem Level 2 | 78 | 47 | 13 |
| Palace Cellar Level 1 | 78 | 47 | 13 |
| Palace Cellar Level 2 | 78 | 47 | 13 |
| Palace Cellar Level 3 | 78 | 48 | 13 |
| Arcane Sanctuary | 79 | 48 | 14 |
| Canyon of the Magi | 79 | 48 | 16 |
| Tal Rasha's Tomb | 80 | 49 | 17 |
| Tal Rasha's Chamber | 80 | 49 | 17 |
Areas in Act III: The Infernal Gate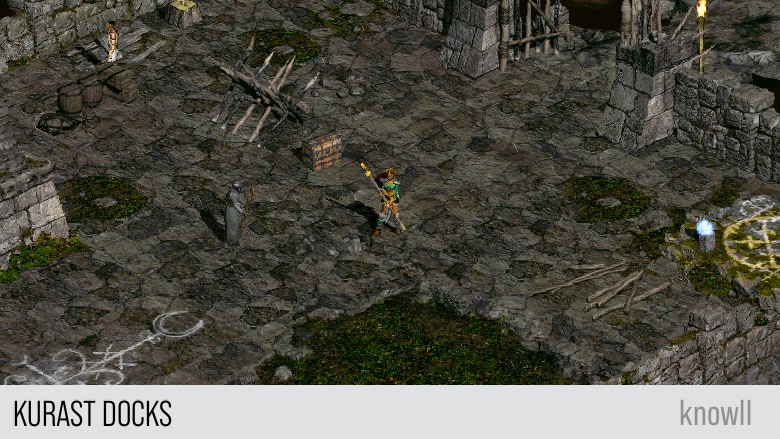 Kurast Docks (With Waypoint)
Spider Forest (With Waypoint)


Arachnid Lair
Spider Cavern

Great Marsh (With Waypoint)
Flayer Jungle (With Waypoint)


Swampy Pit
Flayer Dungeon

Lower Kurast (With Waypoint)
Kurast Bazaar (With Waypoint)


Disused Fane
Ruined Temple

Sewers
Upper Kurast (With Waypoint)


Forgotten Temple
Forgotten Reliquary

Kurast Causeway


Disused Reliquary
Ruined Fane

Travincal (With Waypoint)
Durance of Hate (With Waypoint)
Area Levels in Act III: The Infernal Gate
| Area | Hell | Nightmare | Normal |
| --- | --- | --- | --- |
| Great Marsh | 80 | 50 | 21 |
| Arachnid Lair | 79 | 50 | 21 |
| Spider Cavern | 79 | 50 | 21 |
| Flayer Jungle | 80 | 50 | 22 |
| Swampy Pit Level 1 | 80 | 51 | 21 |
| Swampy Pit Level 2 | 81 | 51 | 21 |
| Swampy Pit Level 3 | 82 | 51 | 21 |
| Flayer Dungeon Level 1 | 81 | 51 | 22 |
| Flayer Dungeon Level 2 | 82 | 51 | 22 |
| Flayer Dungeon Level 3 | 83 | 51 | 22 |
| Lower Kurast | 80 | 52 | 22 |
| Kurast Bazaar | 81 | 52 | 22 |
| Disused Fane | 84 | 53 | 23 |
| Ruined Temple | 84 | 53 | 23 |
| Sewers Level 1 | 84 | 52 | 23 |
| Sewers Level 2 | 85 | 53 | 24 |
| Upper Kurast | 81 | 52 | 23 |
| Forgotten Temple | 85 | 54 | 24 |
| Forgotten Reliquary | 84 | 53 | 23 |
| Kurast Causeway | 81 | 53 | 24 |
| Disused Reliquary | 85 | 54 | 24 |
| Ruined Fane | 85 | 54 | 24 |
| Travincal | 82 | 54 | 24 |
| Durance of Hate Level 1 | 83 | 55 | 25 |
| Durance of Hate Level 2 | 83 | 55 | 25 |
| Durance of Hate Level 3 | 83 | 55 | 25 |
Areas in Act IV: The Harrowing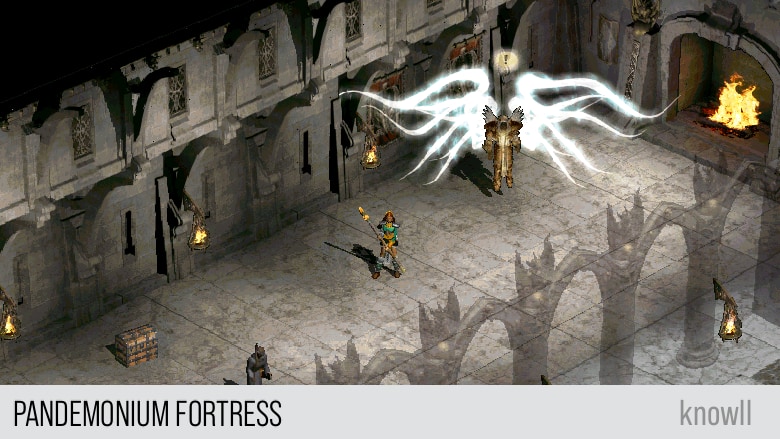 Pandemonium Fortress (With Waypoint)
Outer Steppes
Plains of Despair
City of the Damned (With Waypoint)
River of Flames (With Waypoint)
Chaos Sanctuary
Area Levels in Act IV: The Harrowing
| Area | Hell | Nightmare | Normal |
| --- | --- | --- | --- |
| Outer Steppes | 82 | 56 | 26 |
| Plains of Despair | 83 | 56 | 26 |
| City of the Damned | 84 | 57 | 27 |
| River of Flame | 85 | 57 | 27 |
| Chaos Sanctuary | 85 | 58 | 28 |
Areas in Act V: Lord of Destruction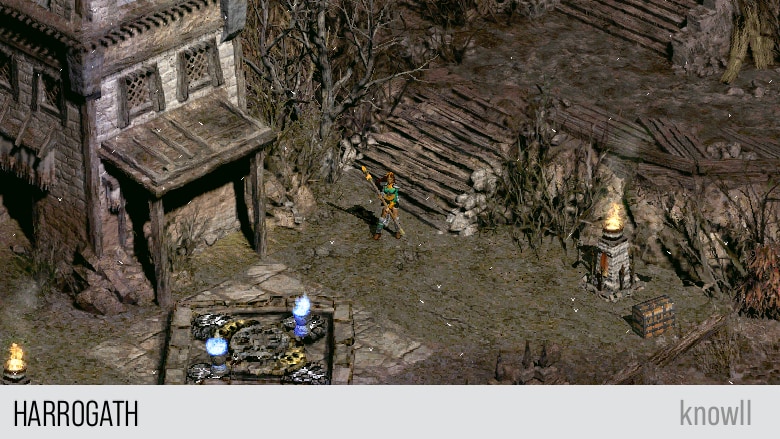 Harrogath (With Waypoint)
Bloody Foothills
Frigid Highlands (With Waypoint)

Arreat Plateau (With Waypoint)

Crystalline Passage (With Waypoint)

Nihlathak's Temple


Halls of Anguish
Halls of Pain (With Waypoint)
Halls of Vaught

Glacial Trail (With Waypoint)

Frozen Tundra (With Waypoint)

The Ancients' Way (With Waypoint)

Arreat Summit
Worldstone Keep (With Waypoint)


Throne of Destruction
Worldstone Chamber
Area Levels in Act V: Lord of Destruction
| Area | Hell | Nightmare | Normal |
| --- | --- | --- | --- |
| Bloody Foothills | 80 | 58 | 24 |
| Frigid Highlands | 81 | 59 | 25 |
| Abaddon | 81 | 60 | 39 |
| Arreat Plateau | 81 | 60 | 26 |
| Pit of Acheron | 82 | 61 | 39 |
| Crystalline Passage | 82 | 61 | 29 |
| Frozen River | 83 | 61 | 29 |
| Nihlathak's Temple | 83 | 63 | 32 |
| Halls of Anguish | 83 | 63 | 33 |
| Halls of Pain | 84 | 64 | 34 |
| Halls of Vaught | 84 | 64 | 36 |
| Glacial Trail | 83 | 61 | 29 |
| Drifter Cavern | 84 | 61 | 29 |
| Frozen Tundra | 81 | 60 | 27 |
| Infernal Pit | 83 | 62 | 39 |
| The Ancients' Way | 82 | 62 | 29 |
| Icy Cellar | 83 | 62 | 29 |
| Arreat Summit | 87 | 68 | 37 |
| The Worldstone Keep Level 1 | 85 | 65 | 39 |
| The Worldstone Keep Level 2 | 85 | 65 | 40 |
| The Worldstone Keep Level 3 | 85 | 66 | 42 |
| Throne of Destruction | 85 | 66 | 43 |
| Worldstone Chamber | 85 | 66 | 43 |