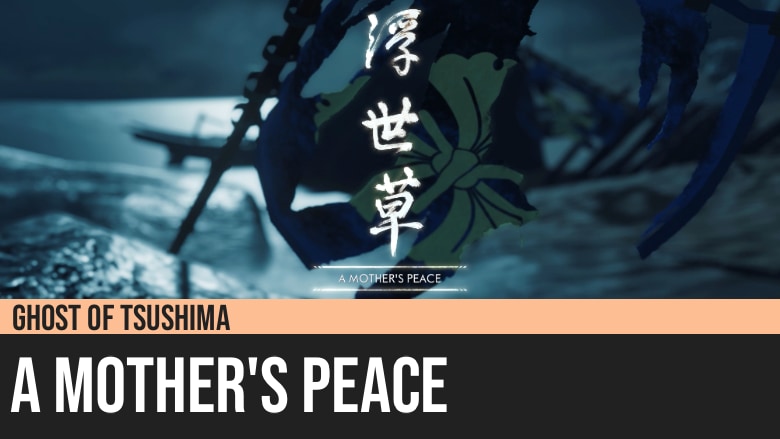 Ghost of Tsushima: A Mother's Peace
Ghost of Tsushima's A Mother's Peace is an independent part of The Tale of Lady Masako where Jin helps Lady Masako search for the bodies of her husband and sons in Komoda Beach. Unlike the other Masako tales, this can be completed without following the sequence.

Masako was seen riding at the battlefield of Komoda beach, a place of unfinished business for her and myself. But Mongols still hold the area. I'll see if I can find her.
Rewards:
Minor Legend Increase
+ 2 Silk
Start of the Quest
This quest gets initiated when you visit the Ariake Survivor Camp. There is a concerned woman there that will inform you of Lady Masako's visiting Komoda Beach alone.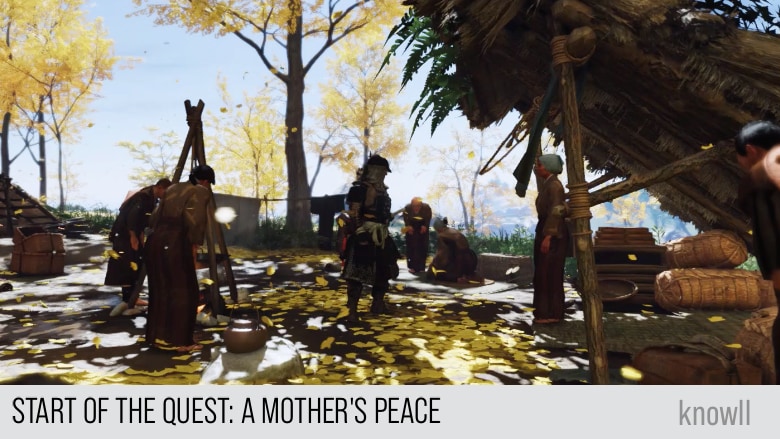 Peasant: Lord Sakai! I think I saw Lady Masako riding for the beach at Komoda.
Jin: Her husband died there. And her sons...
Peasant: I hear Mongols still hold the beach. I worry for her safety...
Jin: I worry more for what she'll do to them, but you're right. I shouldn't leave her alone.
Look for Masako at Komoda Beach
It is time to revisit the first place of invasion of the Mongols, where Lord Harunobu Adachi bravely challenged Khotun Khan for a duel.
The moment you reach Komoda beach, you will find Lady Masako fighting six Mongols at the same time, as expected. Go on and help her defeat the enemies.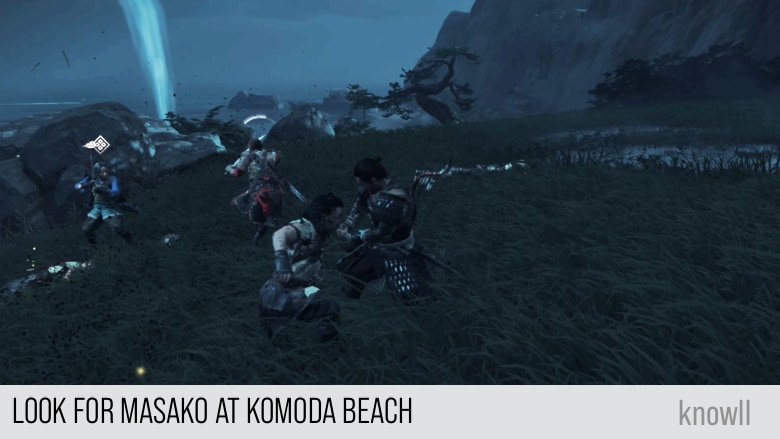 Masako: Thank you for your help.
Jin: What are you doing here, Masako?
Masako: Looking for my family. I already found my husband. But I've yet to find my sons.
Jin: They died as warriors, defending our home.
Masako: Did you see where they... fell?
Jin: No. The battle was chaos. I could barely keep eyes on my uncle. Let me help you find them.
Follow Masako
Follow Masako to search the beach for her family.
Masako: Come. I still need to search this part of the beach.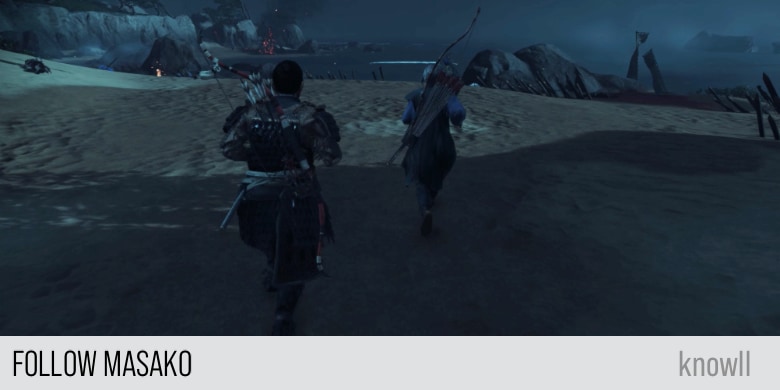 Masako: Look. Over there.
Jin: One of your soldiers.
Masako: Yes. But alone. Do you think he deserted?
Jin: When your husband fell, your clan surged forward to avenge their lord. No one fled.
Masako: It's a comfort to know they were loyal to the end. Keep your eyes open for more of our banners.
Search for the Adachi banner
Move forward to your left and you will find more Adachi banners.
Jin: Masako, over here. An Adachi banner.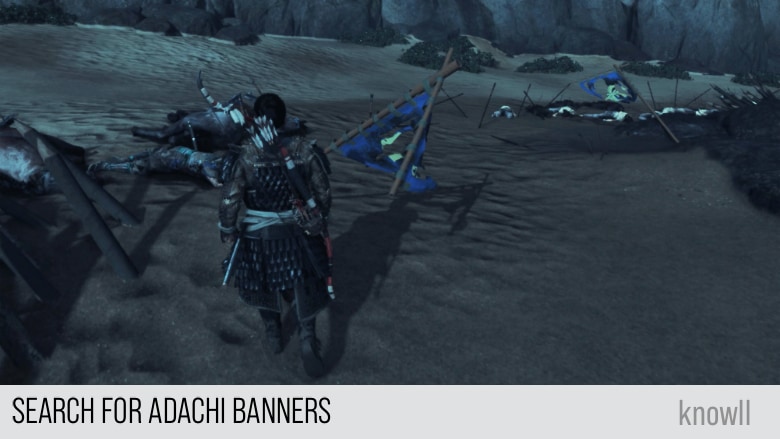 Masako: Jin, over here.
Jin: He was riding down the beach.
Masako: Then we will continue in that direction.
Follow the Adachi Banners
A few more steps and you will find a Kikuchi banner.
Jin: A Kikuchi banner.
Masako: I don't recognize him. My sister's husband fought for Kikuchi.
Jin: Your brother in law could be close by. Should we look for him?
Masako: Right now, I just need to find my sons.
A little farther and you will find Jin's horse during the night of the invasion.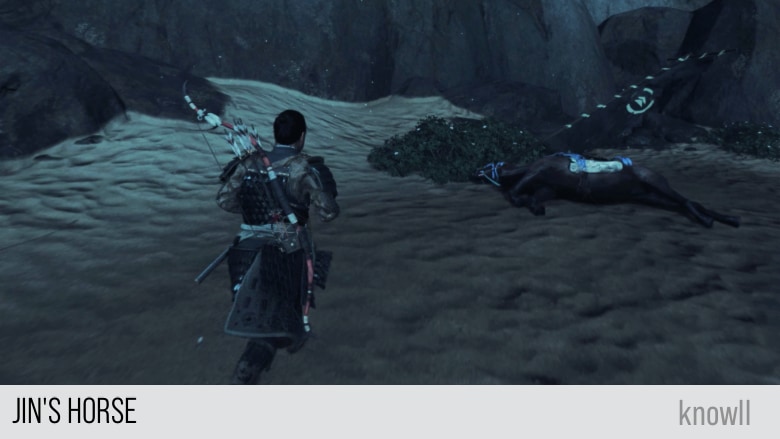 Jin: One of our banners. My horse... (Sigh) I almost died with him.
Masako: What happened?
Jin: My uncle saved me.
Masako: We will return the favor. The important thing is... you endured.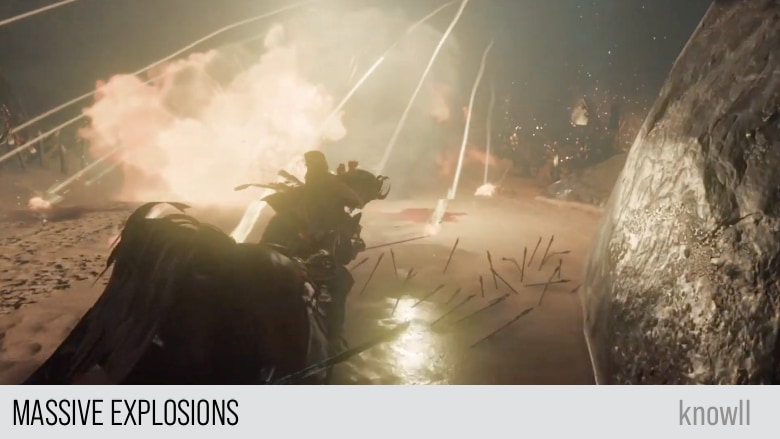 Move forward and you will find the body of Masanori.
Jin: Who is he?
Masako: This is Masanori. He was too young for battle, but his father was old, so he went in his place.
Jin: Not only a brave soldier but a good son.
Masako: Yes. But where are mine?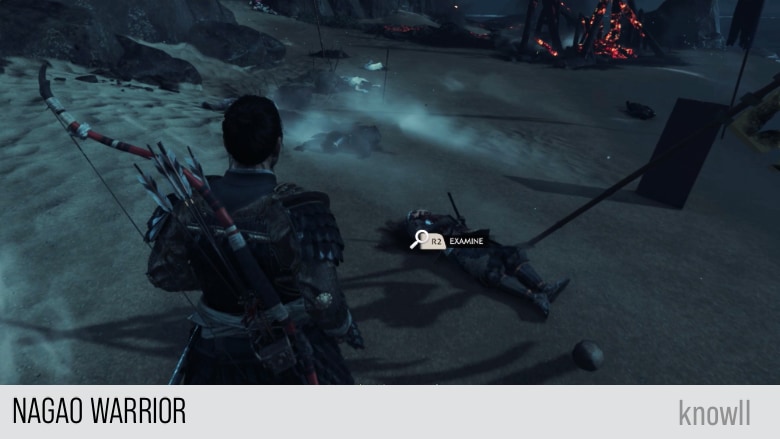 After a few steps, you will see the Nagao warriors.
Masako: Nagao warrior.
Jin: The Nagao archers fell many Mongols.
Masako: Their skill was unrivaled.
Jin: If only Sensei Ishikawa had been with them.
You will soon reach Lord Shimura's banners.
Masako: Your uncle's banner.
And next to them is an Adachi banner.
Jin: They lead up through the rocks.
Masako: Our banners...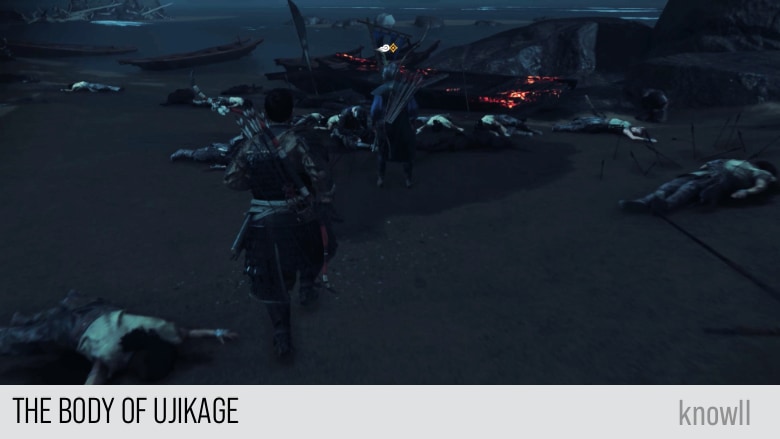 Masako will run for someone she recognized.
Masako: Ujikage. A close friend of my sons. He would have stayed by their side.
Jin: They must be near.
Masako: This way. They left their dead to rot.
Jin: Like discarded trash.
Masako: No... (Sobbing)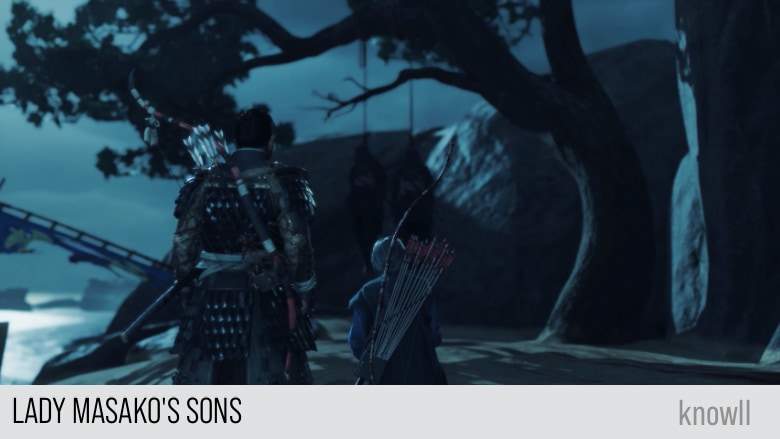 Masako: Shigesato! Yasunari! Strung up like animals.
Jin: Let's get them down.
Masako: (Crying) They should be with our family... buried beside their wives and children.
Jin: The journey to Ariake isn't safe. Is there someplace close we could bury them... that would honor their sacrifice?
Masako: The lighthouse. They played there when they were young... but it's been overrun by Mongols.
Jin: Then we take it back.
Follow Masako
Ride with Lady Masako to reach the lighthouse.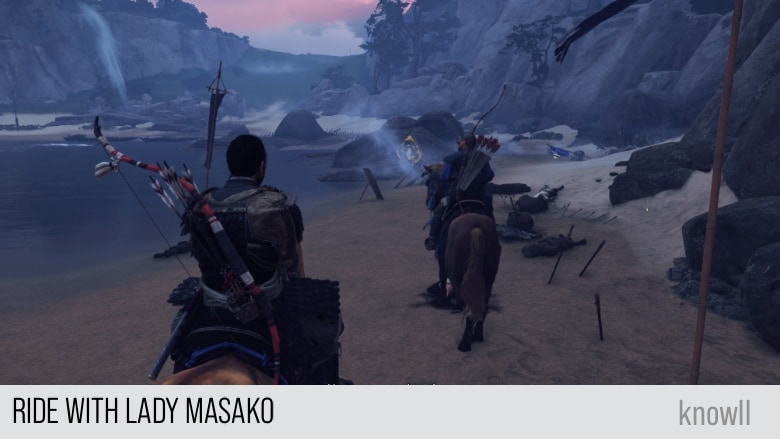 Masako: They loved climbing that tower. If they didn't come home at night... I could always find them there. Gazing at the stars.
Jin: You were a good mother.
Masako: I used to think so. But my children are dead... and I am alive. There is no greater failure.
Jin: I felt that way when my mother died. That I'd failed her.
Masako: But you were so young. And she was ill. There's nothing you could have done.
Jin: Even if that's true... it's a cold comfort.
Masako: I know.
Defeat the Mongols guarding the lighthouse
Upon reaching the lighthouse, Lady Masako will go berserk and attack immediately.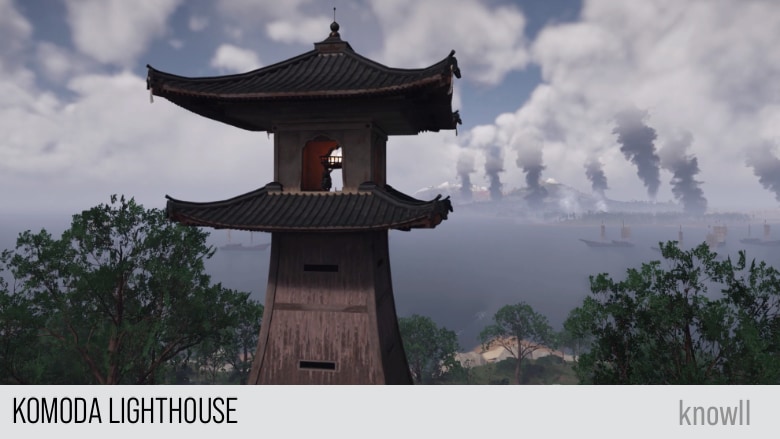 Masako: There they are - Mongol swine!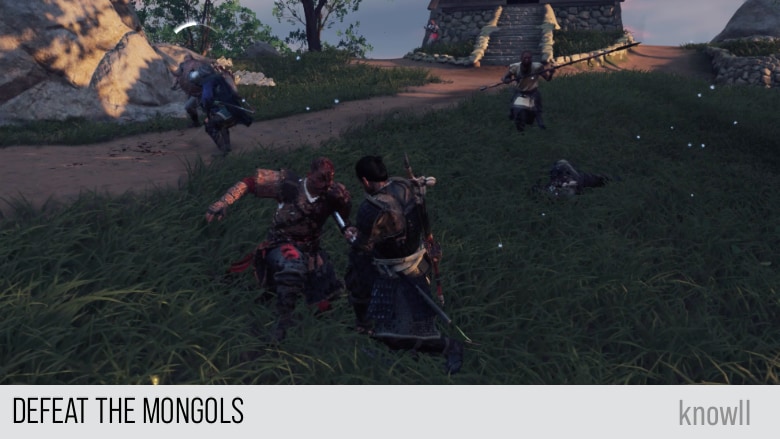 Go ahead and slay them all.
Jin: Stay ready, there could be more.
Masako: They're coming up the hill.
Jin: Watch the grass. Look. Through the tree line.
Masako: They're relentless.
Finally, Lady Masako will let you know once the enemies are all defeated.
Masako: I don't see anymore.
Jin: I think that's it.
Speak with Masako
Approach Masako after clearing the enemies.
Masako: Then it's time. Let's bring my sons.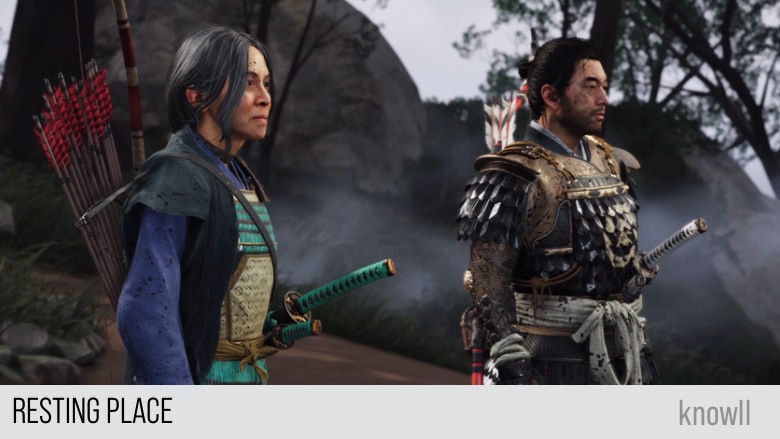 Masako: I never let them spend the night here... Even when they grew older. I always called them home.
Jin: That's what I missed the most after my mother passed. Her voice... Calling for me.
Masako: Take comfort in knowing she's at peace. They all are. You have been a great friend, Jin Sakai. Thank you. But for now... I'd like to spend some time with my sons.
Jin: I understand. Be well Masako.
And with that, you have completed A Mother's Peace quest.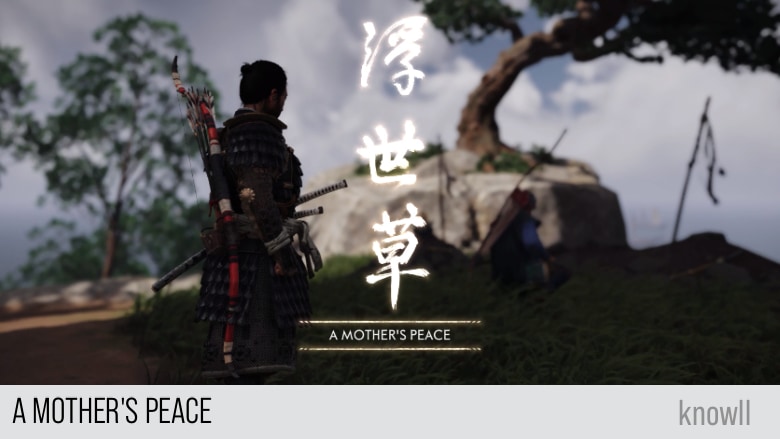 Charm of Fortunate Return Reward
Completing the tale rewards you with a Minor Utility Charm. This item is the Charm of Fortunate Return.
Abilities that use Resolve have a 15% chance to refund 1 Resolve.