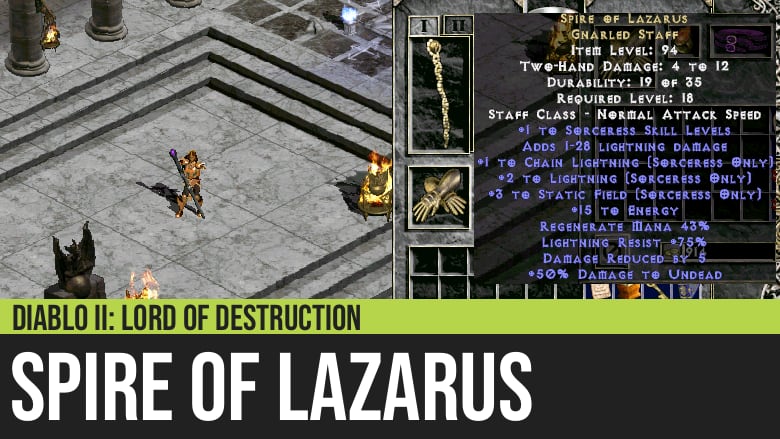 Diablo II: Spire of Lazarus
Spire of Lazarus is a unique Gnarled Staff that is useful for the Sorceress. It has many beneficial attributes, including large lightning resist, mana regeneration, plus points to lightning skills, and additional points to static field and lightning. It is obviously designed for early lightning builds.
In later game modes, especially in Hell, better Sorceress weapons will become available for lightning builds.
Chromatic Ire
Mang Song's Lesson
The Oculus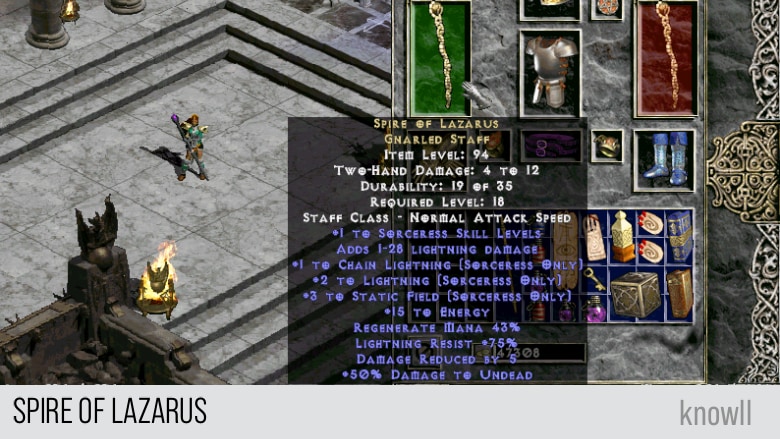 Gnarled Staff
2H Damage: 4 to 12
Melee Range: 2
Attack Speed: [10]
Minimum Strength: -
Minimum Dexterity: -
Durability: 35
Level Requirement: 18


+50% Damage to Undead
Adds 1-28 Lightning Damage
+1 to Sorceress Skill Levels
+2 to Lightning (Sorceress Only)
+1 to Chain Lightning (Sorceress Only)
+3 to Static Field (Sorceress Only)
Regenerate Mana 43%
+15 to Energy
Damage Reduced by 5
Lightning Resist +75%