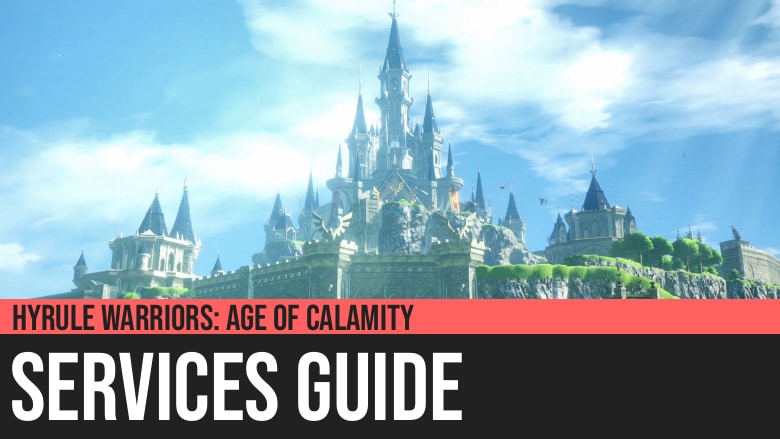 Hyrule Warriors: Age of Calamity - Services Guide
Our Hyrule Warriors: Age of Calamity - Services Guide is the best source of information for all the services available in the game, giving you comprehensive details on the Hylian Blacksmith Guild, Military Training Camp, Meditative Training, Kochi Dye Shop, and all the Merchants with their items list.
The full list of services are as follows:
You access the Services by navigating the left-most part of the menu.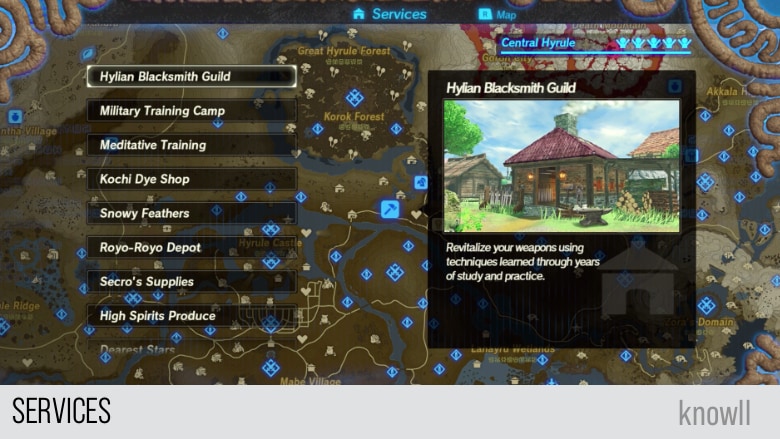 Among all of the services in the game, the Hylian Blacksmith Guild is the most important and could be the one you will visit most because it provides services related to weapons.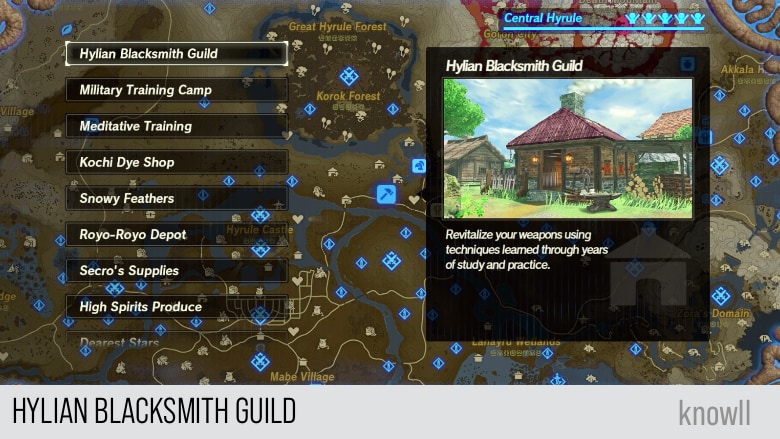 The Blacksmith provides the following services:
Fuse Weapons - the core upgrade mechanic of the game. It allows you to upgrade a chosen weapon by consuming other weapons. In this consumption, it regains some of their characteristics. To learn more about this mechanic, view our Weapon Fusion Guide.
Raise Weapon-Level Limit - this service is initially unavailable and will become unlocked once you progress farther in your gameplay.

The default maximum level of a weapon is Level 20
The first unlock of this service will extend the max level to 25
The second unlock of this service will extend the max level to 30

Remove Seals - similar to the service above, this is also initially unavailable and will become unlocked later in your gameplay. It provides two kinds of seal removal, both of which you have to unlock separately.

Remove all seals - for a price, you can remove all the seals in a weapon.
Remove one seal - for a price, you can remove one seal in a weapon.

Octo-Polish - use this service to polish the rusty weapons you acquire in the game.
Sell - Sell weapons to earn extra rupee.
To get more details on the mechanics of the Blacksmith and learn what are the conditions for unlocking his services, visit our Hylian Blacksmith Guide.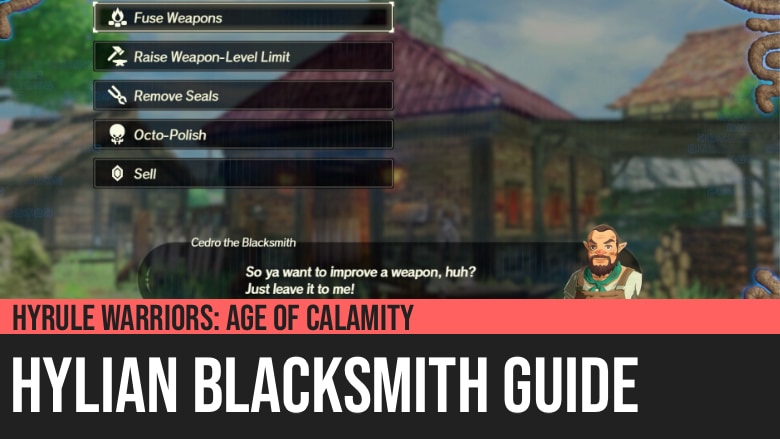 Being in a Warriors game, you are expected to play multiple characters. Playing specific character levels it up while you complete Chapters, Quests, and Challenges. You might wonder though, how can you easily level all your other non-main characters?
Fortunately, the game provides the Military Training Camp service so you can easily level up your other characters.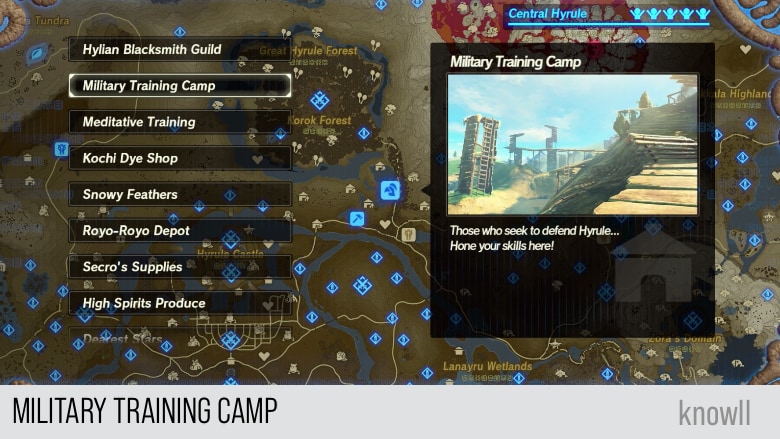 For a price, Instructor Rubeo will level up your selected character, with the condition that it can only be equal to or less than your currently highest level character.
So in the example below, we can level up all the other characters to Level 100, as we already have one character that has reached that level.
To see the exact UI and mechanics for doing this, view our Military Training Guide.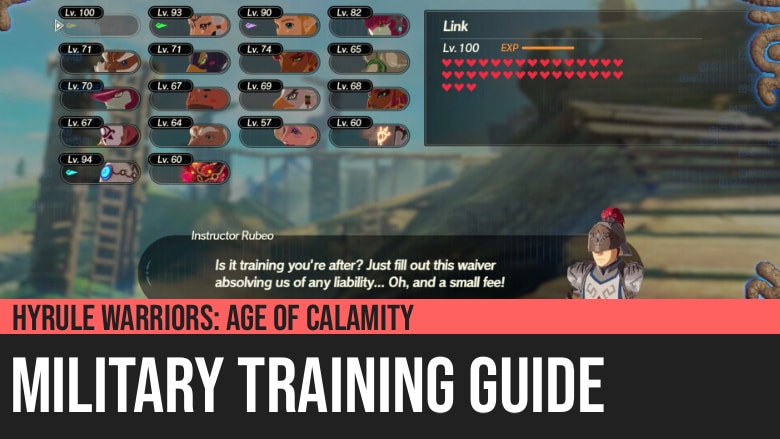 Recently, more action games provide a feature for players to have a training room where they can practice the combat mechanics of their characters.
A good example of this is in Sekiro, where you can safely practice your newly learned skills by fighting Hanbei the Undying, without any repercussions to your character.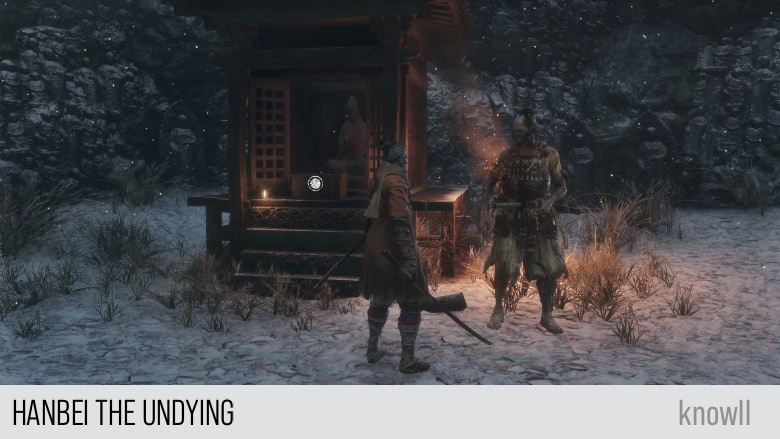 Similarly, the Age of Calamity provides a training room where you can practice any of your unlocked heroes.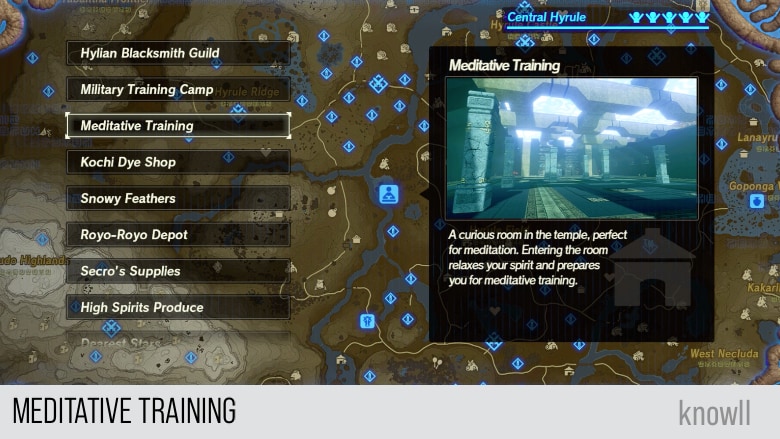 To see our tips and advice on how to make the most out of this training room, view our Meditative Training Guide.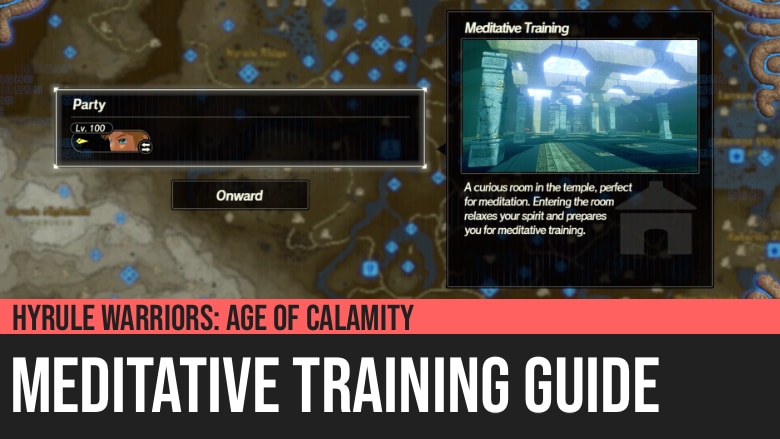 Do you still remember the merchant in BOTW who says "I live to dye?" Yes, he is back in business for Age of Calamity and ready to provide his dyeing services so you can color your armor as you please.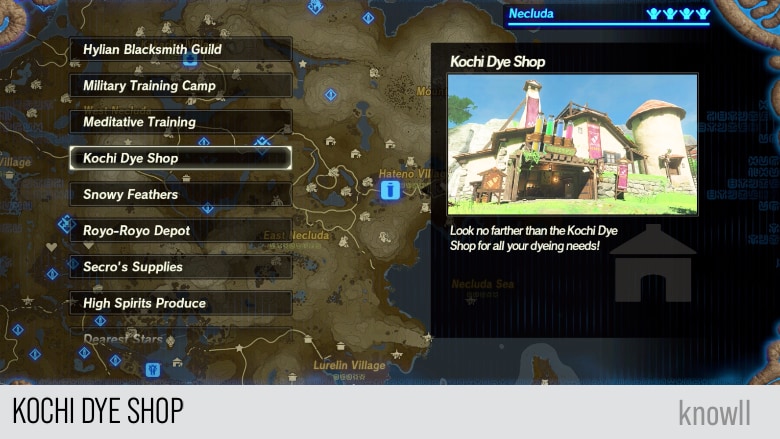 To learn more about the exact details of his dyeing services, visit our Kochi Dye Shop Guide.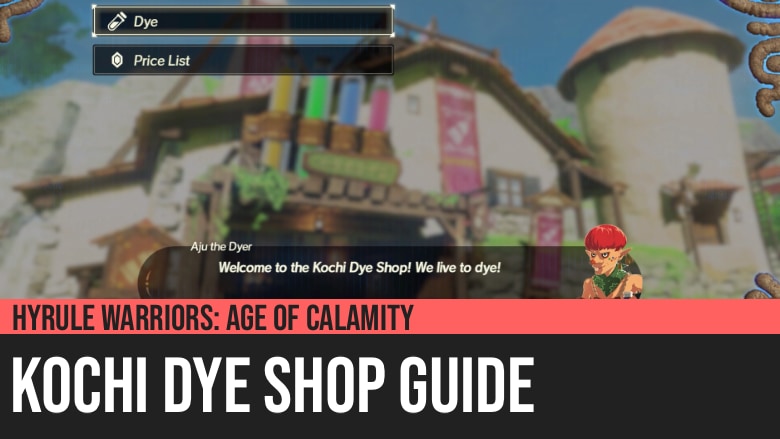 The Merchants of Hyrule
The next list of services is for all merchants who sell various items local to their area in the region. You will surely visit most if not all of them, as you will need various items to unlock Quests and satisfy the requirements for completing the game 100%.
To see our tips and tricks for easily completing your item requirements, view our Merchants Guide.
Snowy Feathers
Find the color that really defines you here at Snowy Feathers. Add a pleasant hue to this silvery-white world!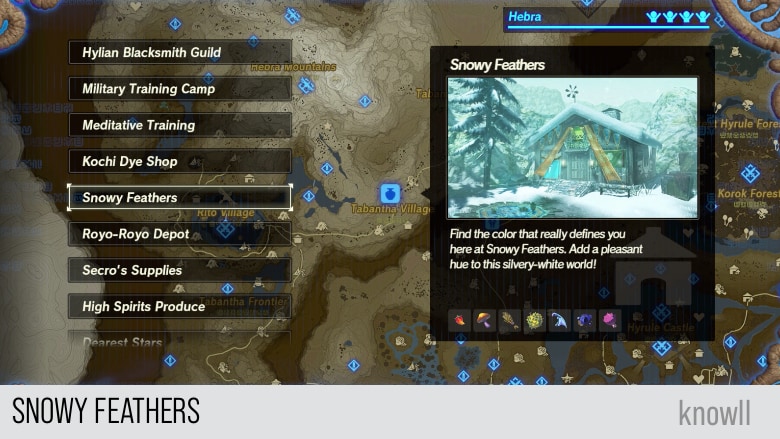 Snowy Feathers Items
Spicy Pepper - 9 Rupees
Endura Shroom - 14 Rupees
Tabantha Wheat - 7 Rupees
Hearty Durian - 36 Rupees
Ice Keese Wing - 14 Rupees
Sapphire - 624 Rupees
Royo-Royo Depot
Here at Royo-Royo Depot, we work year-round to fulfill your every need!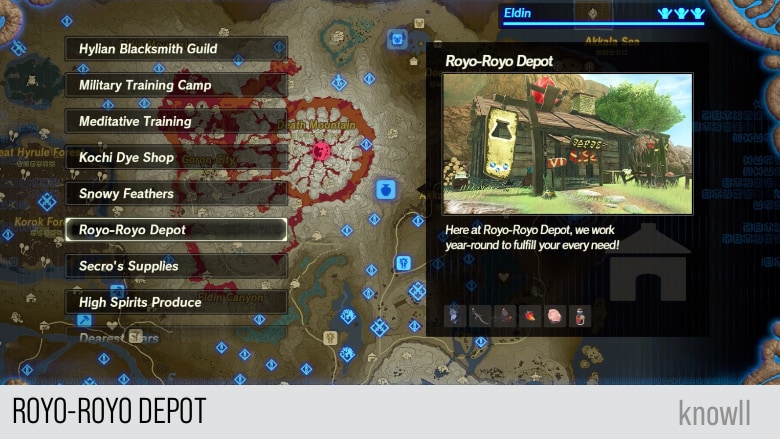 Royo-Royo Depot Items
Flint - 12 Rupees
Fireproof Lizard - 15 Rupees
Smotherwing Butterfly - 6 Rupees
Spicy Pepper - 9 Rupees
Rock Salt - 7 Rupees
Goron Spice - 9 Rupees
Secro's Supplies
Welcome to Goponga Village. We've got a wide array of goods to enrich your day-to-day life!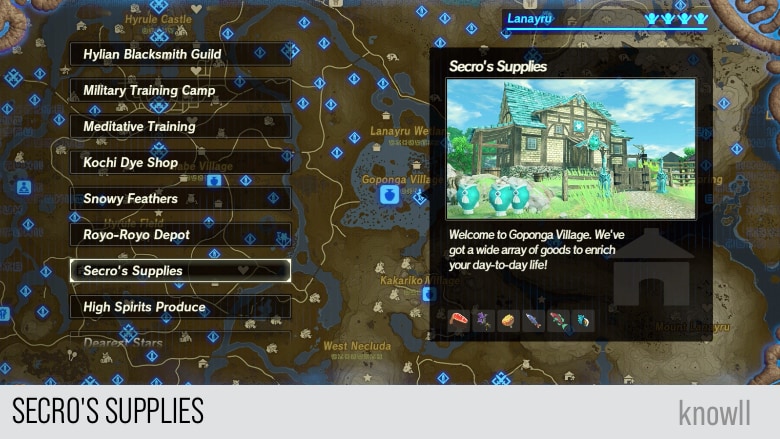 Secro's Supplies Items
Raw Prime Meat - 36 Rupees
Swift Violet - 24 Rupees
Fleet-Lotus Seeds - 12 Rupees
Stealthfin Trout - 24 Rupees
Staminoka Bass - 43 Rupees
Hearty Blueshell Snail - 36 Rupees
High Spirits Produce
Visit High Spirits Produce to enjoy local specialties from Kakariko Village!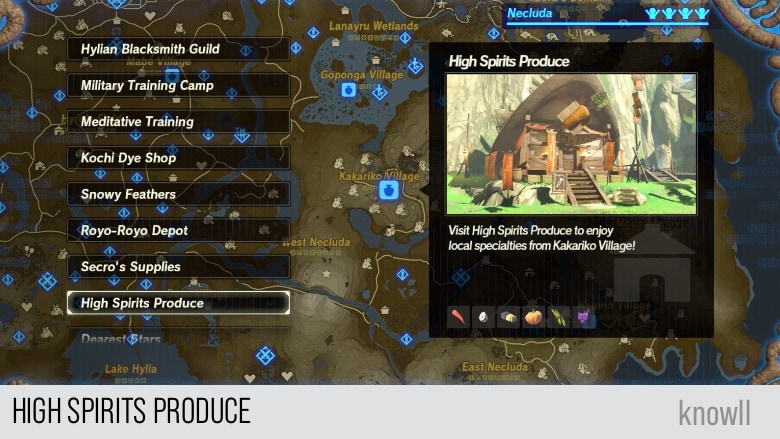 High Spirits Produce
Swift Carrot - 9 Rupees
Bird Egg - 7 Rupees
Goat Butter - 7 Rupees
Fortified Pumpkin - 12 Rupees
Cane Sugar - 7 Rupees
Bokoblin Guts - 48 Rupees
Dearest Stars
Trust our merchandise to make you shine brighter than the brightest star.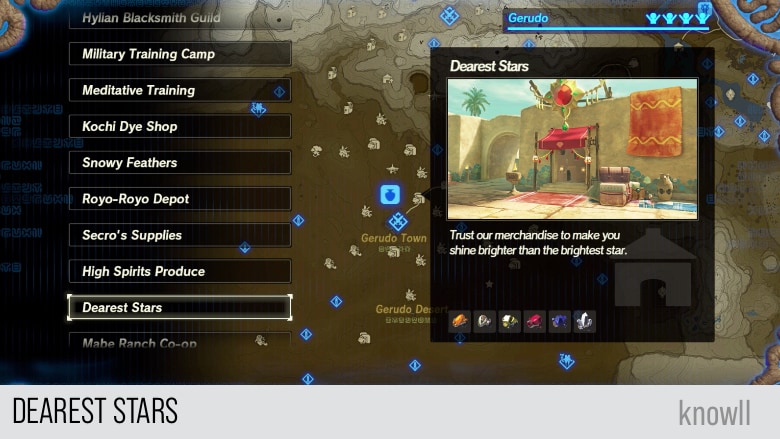 Dearest Stars Items
Amber - 72 Rupees
Opal - 144 Rupees
Topaz - 432 Rupees
Ruby - 504 Rupees
Sapphire - 624 Rupees
Diamond - 1,200 Rupees
Mabe Ranch Co-op
Looking for a refreshing little pick-me-up? Look no further than the fresh milk from our ranch!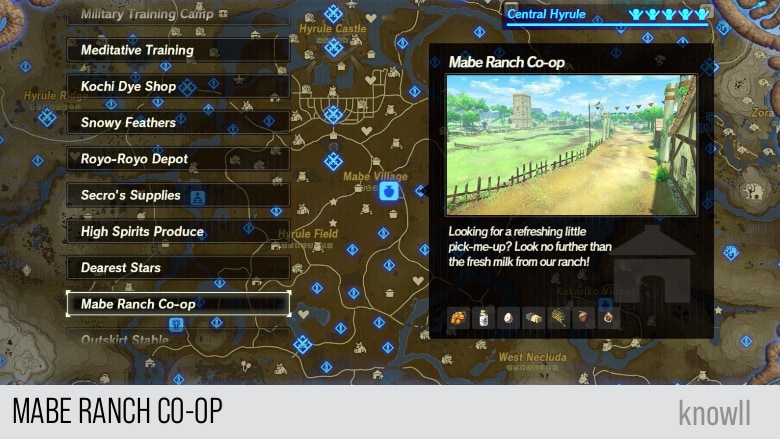 Mabe Ranch Co-op Items
Courser Bee Honey - 24 Rupees
Fresh Milk - 7 Rupees
Bird Egg - 7 Rupees
Goat Butter - 7 Rupees
Hylian Rice - 7 Rupees
Acorn - 4 Rupees
Chickaloo Tree Nut - 7 Rupees
Outskirt Stable
Merchant Monda: Feast your eyes on these delicious fish I caught with my homemade bait. They're fresh as fresh can be! Go on, take a gander!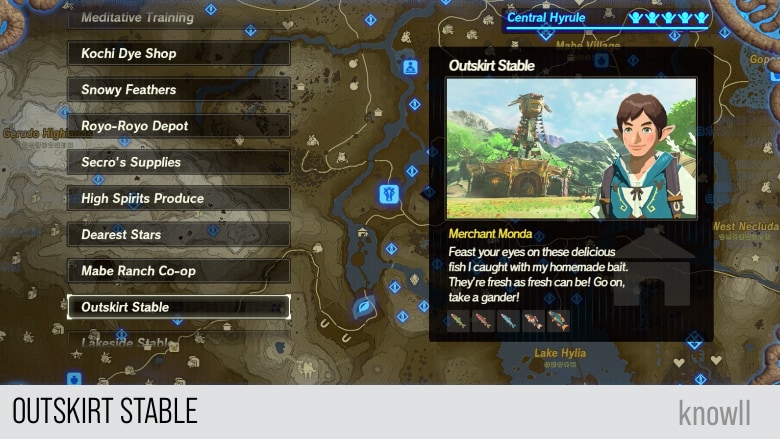 Outskirt Stable Items
Voltfin Trout - 24 Rupees
Sizzlefin Trout - 24 Rupees
Chillfin Trout - 24 Rupees
Sanke Carp - 80 Rupees
Hearty Bass - 72 Rupees
Lakeside Stable
Merchant Bena: You're missing out if you don't pick at least a few of these amazing mushrooms I've gathered!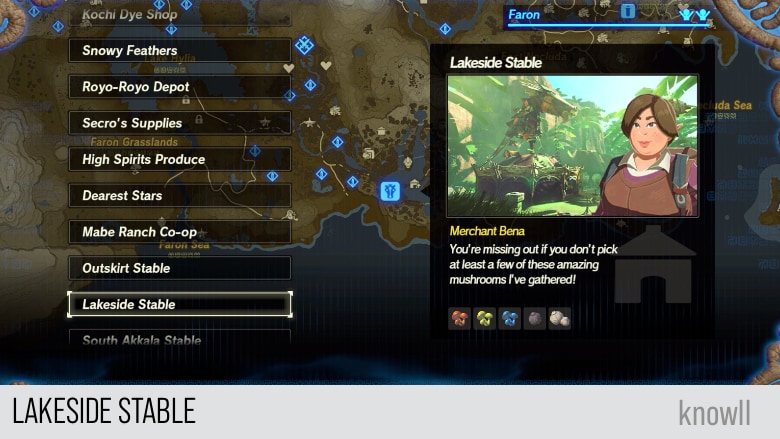 Lakeside Stable Items
Sunshroom - 16 Rupees
Zapshroom - 16 Rupees
Chillshroom - 16 Rupees
Hearty Truffle - 24 Rupees
Big Hearty Truffle - 60 Rupees
South Akala Stable
Merchant Cheria: Another day, another ancient relic to research! I wouldn't have it any other way!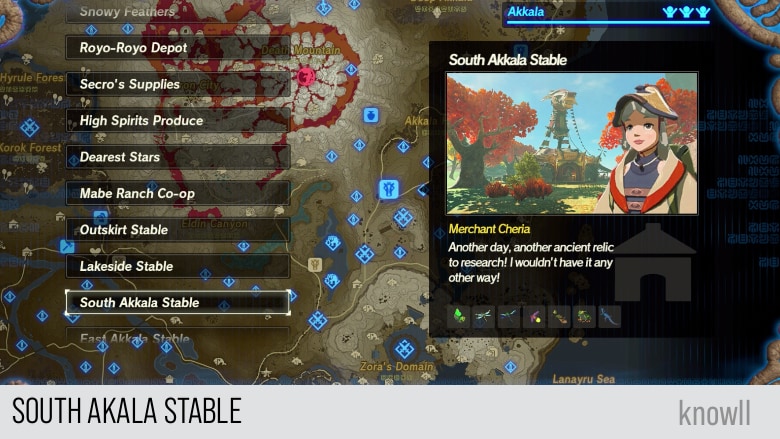 South Akala Stable Items
Thunderwing Butterfly - 10 Rupees
Electric Darner - 10 Rupees
Cold Darner - 10 Rupees
Sunset Firefly - 10 Rupees
Restless Cricket - 10 Rupees
Hot-Footed Frog - 10 Rupees
Hearty Lizard - 100 Rupees
East Akala Stable
Merchant Ettu: The more plants I sell, the more meat I can buy. So to get more meat, I must tolerate plants.. Ugh. Think of the meat, just think of the meat.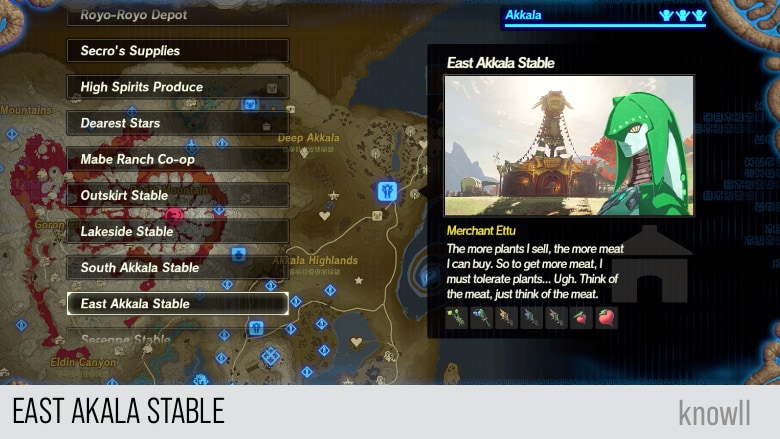 East Akala Stable Items
Hyrule Herb - 12 Rupees
Blue Nightshade - 16 Rupees
Electric Safflina - 12 Rupees
Cool Safflina - 12 Rupees
Warm Safflina - 12 Rupees
Hearty Raddish - 32 Rupees
Big Hearty Raddish - 60 Rupees
Serenne Stable
Merchant Segimo: Cores in the morning! Gears at night! Ancient Screws and Ancient Shafts! Guardian collection delight!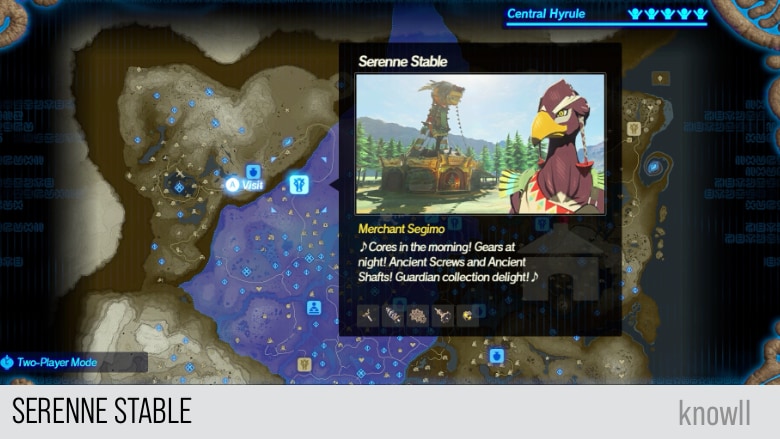 Serenne Stable Items with Merchant Segimo
Ancient Screw - 48 Rupees
Ancient Spring - 60 Rupees
Ancient Gear - 120 Rupees
Ancient Shaft - 160 Rupees
Ancient Core - 320 Rupees
Merchant Rhodo: I'm having a blast traveling and selling this stuff.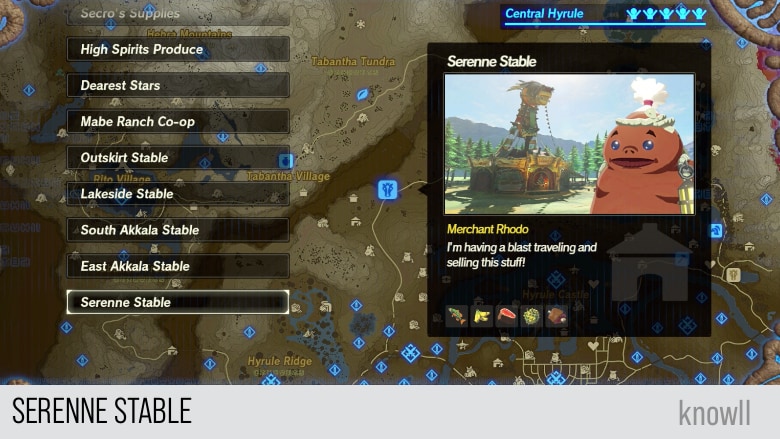 Serenne Stable Items with Merchant Rhodo
Hyrule Bass - 24 Rupees
Mighty Bananas - 20 Rupees
Raw Prime Meat - 60 Rupees
Hearty Durian - 60 Rupees
Raw Gourmet Meat - 140 Rupees
View our Game Mechanics guide to learn more about the other features of the game.